Aditya Roy Kapur opens up about career highs, the importance of taking breaks; Read
Aditya Roy Kapur reflects on his career's highs and lows, emphasizing resilience and the importance of taking breaks in a recent interview. He shares his experience dealing with failures and the self-imposed sabbaticals he took during his career. Aditya's journey in the film industry, from early disappointments to later successes, serves as a testament to the perseverance needed in the entertainment world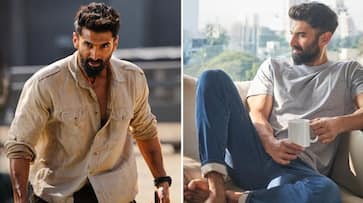 Aditya Roy Kapur, an actor known for his varied experiences of success and failure in the film industry, recently shared insights into how he dealt with setbacks and the importance of taking breaks in his career. Aditya's journey in the world of cinema began with the 2009 film "London Dreams," and he has had his fair share of ups and downs along the way.
In a recent interview Aditya Roy Kapur was asked if he ever felt demotivated or doubted his career choice during tough times. He responded, "I think you have to try and not allow those thoughts to creep in so much."
The actor acknowledged that there were moments when self-doubt would try to sneak in, particularly on a disappointing weekend, but he emphasized the need to fend off such negativity and stay focused on the bigger picture. Aditya mentioned that since he began his career with films that didn't perform well at the box office, he was well-acquainted with the feeling of disappointment. He said, "It was jarring for me that my first film didn't do well. It's not like there was any pressure on my shoulders, but I got to deal with that early on."
Despite occasional moments of self-doubt, Aditya Roy Kapur expressed that he never gave in to these negative feelings, and his presence during the interview was proof of that. He also admitted that there were periods in his career when he didn't work for extended durations.
Aditya disclosed that after his 2017 movie "Ok Jaanu," he took a two-year break from stepping onto a movie set. He explained, "I didn't go to a movie set for 2 years after 'OK Jaanu.'"
During his career breaks, the actor chose to take self-imposed sabbaticals, even though work opportunities were available to him. Aditya mentioned that it was a challenging time, saying, "Work was coming my way, but I didn't like anything, and it ended up being a long period of time."
He elaborated on his experience of returning to work with the film "Kalank," directed by Abhishek Varman, stating that he began shooting for the film exactly two days into the year following his two-year hiatus. Aditya emphasized the importance of maintaining internal belief during challenging periods, knowing that success and opportunities are cyclical.
ALSO READ: Koffee with Karan 8: Varun Dhawan, Siddharth Malhotra pairing up for Karan Johar's couch?
Last Updated Oct 19, 2023, 10:05 AM IST