Aamir Khan announces Bollywood comeback with 'Sitaare Zameen Par'; Teases upcoming film with Sunny Deol
Aamir Khan is set to make his Bollywood comeback with "Sitaare Zameen Par," a film offering a lighter tone than "Taare Zameen Par." He also revealed his production ventures, including a project with Sunny Deol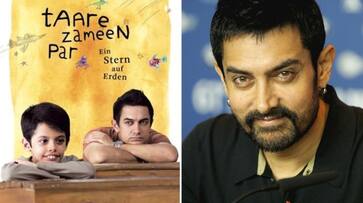 Bollywood superstar Aamir Khan has revealed his next acting venture, titled "Sitaare Zameen Par," during an interview with News18 India at the 'Amrit Ratna 2023' event. In this new film, he takes a lighthearted approach compared to his previous acclaimed work in "Taare Zameen Par," which was known for its emotional impact. Aamir explained, "I'm starring in and producing this film 'Sitaare Zameen Par.' We are going ten steps ahead with the theme of 'Taare Zameen Par.' That film made you cry, this one will make you laugh. In 'Taare…' I helped Darsheel's character, but in this film, nine people, with their own set of problems, will help me."
"Sitaare Zameen Par" marks Aamir Khan's return to the big screen after his 2022 release, "Laal Singh Chaddha," which also starred Kareena Kapoor Khan. "Laal Singh Chaddha" was an official remake of the Hollywood movie "Forrest Gump" but did not perform well at the box office.
For those unfamiliar with "Taare Zameen Par," it was released in 2007 and centered around the story of an eight-year-old boy named Ishaan, who had dyslexia. Aamir Khan played the role of a school teacher in the film.
ALSO READ: Amitabh Bachchan celebrates Birthday with fans; Abhishek Bachchan joins via Aishwarya Rai's video call
Aamir Khan also discuss mentioned that he is producing three films, including "Laapata Ladies," directed by Kiran Rao, which is set to release on January 5. He is also producing a movie with his son Junaid Khan. Additionally, Aamir revealed that he is working on a project with acclaimed director Rajkumar Santoshi and actor Sunny Deol. The film, titled "Lahore 1947," will feature Sunny Deol as the lead character, and it marks the first collaboration between Aamir Khan and Sunny Deol. Aamir expressed his excitement about this venture, saying, "It is a very good story.''
Last Updated Oct 11, 2023, 10:17 AM IST