'The Woman in Me': Britney Spears gets real about why she 'shaved off' her hair in 2007; Know more
In her upcoming memoir, titled 'The Woman in Me', globally prominent Grammy-winning artist and pop queen, Britney Spears shares her journey. She finally goes candid to reveal the truth behind shaving her hair and asserting control over her life after the conservatorship.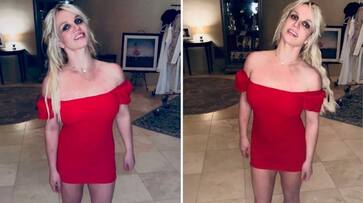 In 2007, Britney Spears faced a challenging period in her life. She was going through a tough divorce with her ex-husband, Kevin Federline. She was constantly chased by paparazzi. The 'Hold Me Closer' songstress was also heavily subjected to gossip. During this testing time, she decided to shave her head. This random action of hers attracted significant media attention. In her upcoming memoir, The Woman in Me, Spears explains the real story and her reasons for this drastic action. She said, "I had been eyeballed so much growing up. I had gotten looked up and down. Had people sharing what they thought of my body since I was a teenager. Shaving my head and acting out were my ways of pushing back."
ALSO READ: 'Tiger 3' poster unveiled: Salman Khan, Katrina Kaif, Emraan Hashmi exude confidence in fresh look
However, in 2008, after being placed under a court-mandated conservatorship, where her father and a lawyer had control over her financial and personal matters, she was prohibited from maintaining her newly shaved look. Britney explained in her memoir, "Under the conservatorship, I got made to understand that those days were now over. I had to grow my hair out and get back into shape. I had to go to bed early and take whatever medication they told me to take."
Britney Spears, opening on how her love for 'singing' and 'dancing' became a big joke during this brutal and damaging conservatorship as she also turned into a shadow of herself, has shared, "I would do little bits of creative stuff here and there, but my heart was not in it anymore. As far as my passion for singing and dancing, it was almost a joke at that point. Almost thirteen years went with me feeling like a shadow of myself."
Britney Spears, divulging the true colours of her family during her conservatorship phase in the explosive tell-all memoir 'The Woman in Me', has said, "I think back now on my father and his associates having control over my body and my money for that long. It makes me feel sick. I think about how many male artists gambled all their money away; how many had substance abuse or mental health issues? No one tried to take away their control over their bodies and money. I did not deserve what my family did to me."
ALSO READ: Did Britney Spears get an 'abortion' done while dating THIS singer? KNOW details
Last Updated Oct 18, 2023, 2:09 PM IST