'Berozgar yojna ki part to nahi': Salman Khan trolled for promoting niece Alizeh at engagement ceremony
In yet another new viral thread on Reddit, a fan's video clip of Salman Khan walking with his niece Alizeh Agnihotri at the Anant Ambani and Radhika Merchant engagement ceremony has gone viral. But Salman Khan got bashed for the same. Read on to know more.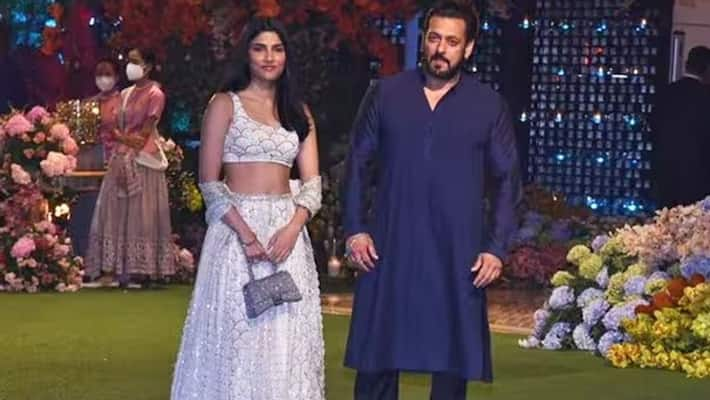 The debate between the non-star kids or outsiders being really worthy and nepo kids or the star kids having it easy but undeserving, as they are handed the bollywood career to them by their well-renowned parents or immediate family members on a platter, is not a new thing. While the debate around deserving vs. undeserving is still going on, people on the internet can't see actors and star kids show off their 'starry tantrums' in the name of 'struggles.'
Social media can be a twisted place, to be honest. While it makes several deserving stars real superstars, many global Bollywood superstars often face the flak and heat of social media users and netizens because of their actions. Their actions might be intentional or unintentional, but it gets them slammed massively nowadays, even on the social media platform Reddit.
ALSO READ: Reddit fans bash Ashneer Grover for speaking about Salman Khan in the 'Tu Tadak' language
This time the netizens have slammed the renowned and global Bollywood superstar Salman Khan for coming to the engagement ceremony of Anant Ambani and Radhika Merchant with his niece Alizeh Agnihotri. 
In the video clip uploaded by a Reddit user on Reddit, fans can see that Salman Khan made his starry appearance at Antilia to attend Reliance scion Mukesh Ambani's son Anant Ambani and Radhika Merchant's engagement ceremony. They got some pics clicked by the paps and made their way inside. This video clip has irked the social media users and netizens who have bashed Salman Khan for also becoming a nepotism father as they have claimed that he might be launching his niece soon into B-town. They also revealed that this might be the main reason behind him taking her to all these events.
Here are some users who have bashed the star for the same.
"Salman khan berozgaar yojna ki part to nai ban rhi ?? You never know. Bhai literally provides employment to all his family members," a user said. "This is very awkward," said another one. "Ah shit. here we go again. One more nepotism product," said a third user. "To chaliye launching shuru karte hai. BollywoodGuruji," said a fan. "As long as he doesnt sign a movie! Ter---ist sympathizing Creep!," a netizen added.
ALSO READ: 'Bastian ke bahar runway karna tough hai': Sanjay Kapoor bashed for glorifying daughter Shanaya's struggles
Last Updated Jan 20, 2023, 5:30 PM IST