PM Modi in Palakkad: LDF has betrayed Kerala like Judas betrayed Jesus Christ, spells out BJP's vision
PM Modi is on his campaign trail for the upcoming Assembly polls. He is also scheduled to address election rallies in poll-bound Tamil Nadu and Puducherry later in the day.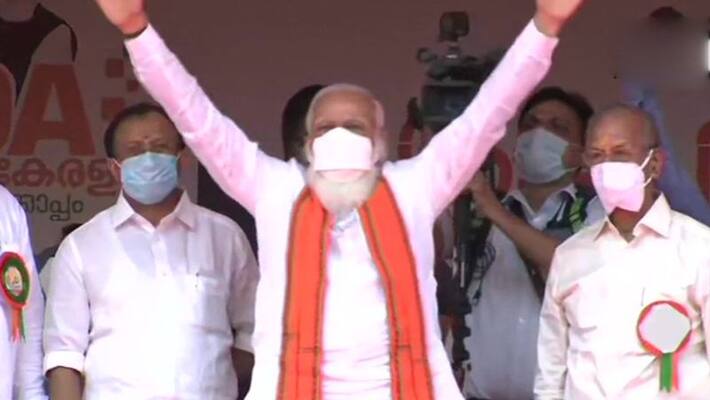 Prime Minister Narendra Modi on Tuesday said that Bharatiya Janata Party (BJP) has a forward looking vision for poll-bound Kerala, like the rest of the country, as he addressed a rally in Palakkad.
Slamming opposition parties on his campaign trail for the upcoming assembly polls, PM Modi said the Left Democratic Front (LDF) government has betrayed the state like Judas betrayed Jesus Christ. He said, "Judas betrayed Lord Christ for a few pieces of silver. LDF has betrayed Kerala for a few pieces of gold."
"Today I have come among you to seek your blessings for the BJP in the upcoming state elections. I have come here with a vision that is refreshingly different from the current situation in Kerala," he said further.
"Left parties have been in power here many times. But their leaders still behave like junior-level goons. Under them, political rivals are killed, hacked and beaten. BJP govt in Kerala will stop this violence," Modi remarked while raking up the recent incidents of the political violence in the poll-bound state.
"Kerala and tourism have a close link. Sadly, LDF & UDF have not done much to improve tourism infrastructure here. We want technology to serve as a basis for growth," Modi said.
Showering praise on 'Metro man' E Sreedharan, who is the party's candidate from Palakkad, PM Modi said the man has achieved so much in life, and done so much work. Sreedharan was also present at the rally.
"A man who is lived by so many people, has devoted himself for Kerala's power. He knew he will be attacked but stayed firm on his commitment for Kerala," said PM Modi.
Prime Minister Modi further said that UDF and LDF are ashamed of the culture of the land and they abuse traditions and ethos.
"In a democracy, we can have political differences. But, violence is not acceptable."
He asked people to vote for the Bharatiya Janata Party (BJP), a government that guarantees peace and prosperity in the state.
Elections in Kerala are slated to be held on April 6. The counting of votes will be held on May 2.
Last Updated Mar 30, 2021, 1:41 PM IST