Deve Gowda says no to Bengaluru North, to contest from Tumakuru
Deve Gowda had two constituencies, Bengaluru North and Tumakuru to choose from. Now that he has finalised on Tumakuru, he will file his nomination on Monday.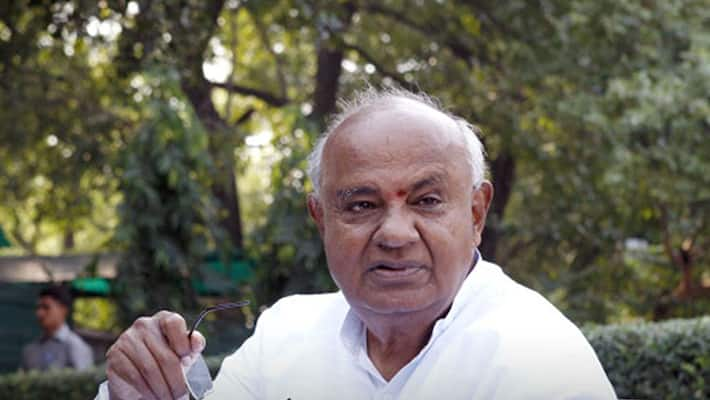 Bengaluru: Former prime minister, JD(S) chief Deve Gowda has put all speculation to rest as he has decided to contest for this Lok Sabha election from Tumakuru constituency.
According to reports, Deve Gowda will file his nomination between 2pm and 3pm from Tumakuru on Monday (March 25).
The sitting MP from Hassan, Deve Gowda gave up his Lok Sabha ticket to the constituency he has been contesting since 1991, to his grandson Prajwal Revanna.
According to seat-sharing agreement with Congress, after leaving out Hassan, he had two constituencies to choose from; Bengaluru North and Tumakuru.
Though Congress leaders tried to coax him to contest from Bengaluru North, he was unsure of his chances there.
"I spoke to Deve Gowda ji and requested him to contest from Bengaluru North constituency... Congress has five and JDS has two MLAs, who can ensure his victory," Karnataka Pradesh Congress Committee president Dinesh Gundu Rao had said earlier.
Congress was of the opinion that Deve Gowda can be a strong opponent to BJP's Sadananda Gowda in Bengaluru North.
A meeting attended by JD(S) MLAs from Tumakuru was held at Padmanabhanagar residence of Deve Gowda. After discussion, he came to a decision of testing his mettle in new waters in Tumakuru. This is Deve Gowda's last election, as per his declaration.
Deve Gowda has won election from Hassan in 1991, 1998 and three-times in a row in 2004, 2009 and 2014.
Last Updated Mar 23, 2019, 1:44 PM IST