Deve Gowda's delay derails Congress train from Bengaluru North to Parliament
At an event hosted by both JD(S) and Congress leaders and well-wishers to extend support to consensus candidate of Coalition, Krishna Byre Gowda admitted that the Congress is on the backfoot as BJP had started the groundwork months in advance and the coalition picked a candidate only at the last minute.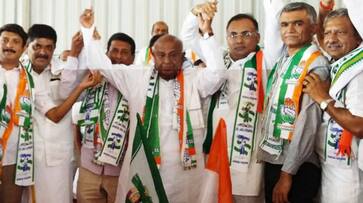 Bengaluru: Minister in the HD Kumaraswamy-led government and coalition candidate for Bengaluru North, Krishna Byre Gowda has accepted that the BJP is ahead of the game and the Congress is on the back foot due to the delay in selecting a candidate.
At an event hosted by both JD(S) and Congress on Thursday to extend support to his candidature in which five Congress and two JD(S) legislators were present on the dais along with HD Deve Gowda, Krisha Byre Gowda said," I was not prepared, and my candidacy happened all of a sudden. BJP has started their groundwork months in advance. We need to catch up. Since the constituency is big, it takes time to cover all the eight MLA segments. I appeal to both JD(S) and Congress workers and leaders to start approaching voters."
According to sources, Krishna Byre Gowda was not in the contention for a ticket and feared risking a loss in the election, as a defeat would leave an indelible mark on his political career. Byre Gowda had lost to HN Ananth Kumar in 2009 MP election with a 37,612 vote-margin in Bengaluru South.
Although the coalition has the edge due to the number of MLA seats in this Lok Sabha segment now, BJP can give their opponent sleepless nights as the entire nation has been chanting the 'NaMo' slogan supporting PM Modi, post the Pulwama attack and India's response. The equation has changed a lot and BJP looks all set. 
Barring Malleshwaram, Congress and JD(S) won seven MLA seats in May Assembly election. Congress won KR Puram, Hebbal, Byatrayanpura, Yeshwanthpur and Pulakeshinagar and JD(S) won the Mahalakshmipuram and Dasarahalli seats.
In his speech, Krishna Byre Gowda also said that he did not opt to contest the election at first, and all the leaders from here wanted HD Deve Gowda to contest and since there was pressure from Tumakuru, senior Gowda gave away Bengaluru North and referred his name instead.
"HD Deve Gowda called me and said that he wanted me to contest the election, stating that will extend his support. The matter was discussed between senior Congress leaders and it was only then that I agreed," he said.
Last Updated Mar 29, 2019, 5:40 PM IST