Dog sniffs out hideout 12 kilometres away, helps solve murder case in hours
A murder accused was arrested by police after a dog sniffed out his hideout which was 12 kilometres away from the crime scene. The incident occurred at Dharwad in North Karnataka.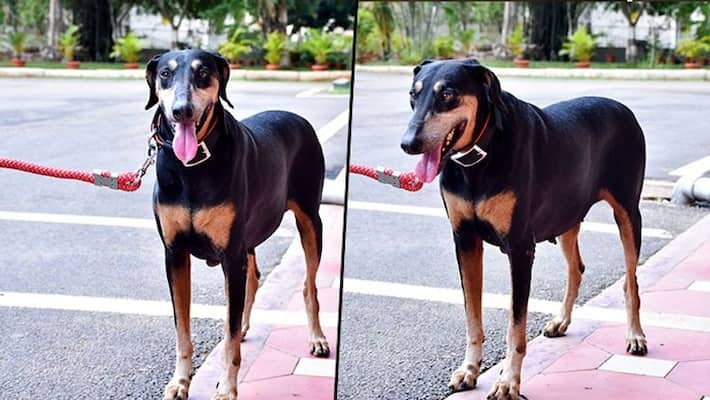 Karnataka Police were stunned and equally proud as their sniffer dog helped them solve a theft and murder case in just a few hours.
According to reports, the 9-year-old Doberman Pinscher named Tunga is trained to hunt down criminals. The dog was brought to the crime spot by the dog squad at 9:30 pm where a man named Chandra Nayak lay dead after he was shot. The dog caught onto the scent and led police for about 12 kilometres.
In its 12-kilometre journey to nab the killers, the canine did not let other scents distract him even as it came across wine stores and a food joint before arriving at a house in Basavapatna Police Station limits in Channagiri Sub Division where the accused were hid.
The accused fled the hideout. However, police used their network and arrested the main accused Chetan. The hunt for his associates is still on.
According to police, the murder was planned after a fallout between thieves over sharing of the spoils from a theft committed at Dharwad's Vidyagiri Police Limits on June 20. Chethan became furious after Nayak demanded a share of the loot.
In order to eliminate Nayak, Chethan and few of his associates hatched a ploy and called him over to a secluded spot in Davanagere and shot him with a revolver which they stole from a house along with gold ornaments.
Deputy Superintendent of Police (Chennagiri division) Prashant Munnolli honoured the dog and its trainer Prakash for the exceptional work. According to police, Tunga happens to be the first sniffer dog in Karnataka Police records for having sniffed out a hideout as far as 12 kilometres away.
Last Updated Jul 20, 2020, 5:13 PM IST