Bengaluru violence: Police chief Kamal Pant extends curfew till 6 am on August 15
Police said 145 people, including the MLA's relative, have been arrested and the situation is under control. Karnataka chief minister BS Yediyurappa said the government will conduct a probe by a magistrate into the incident.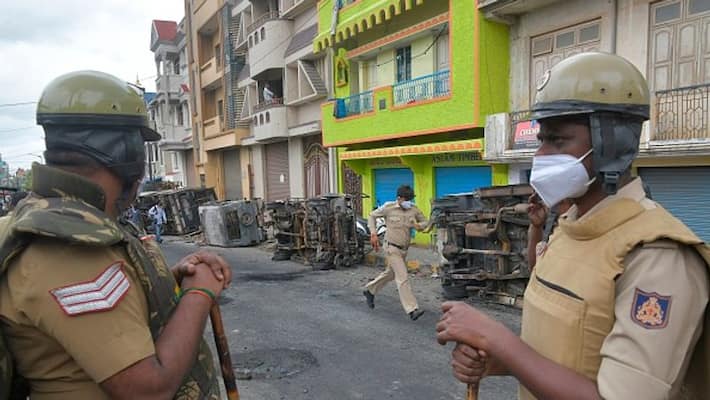 Bengaluru: The imposition of Section 144 of Code of Criminal Procedure (CrPC) in areas under DJ Halli and KG Halli police station limits extended till 6 am on 15th August by the Bengaluru Commissioner of Police.
In an order, on Wednesday night, Bengaluru Police Commissioner Kamal Pant extended curfew. According to Bengaluru police, the decision was taken after assessing the situation in DJ Halli and KG Halli police station limits besides intelligence inputs. Earlier curfew was only up to 6 am on Thursday (August 13).
The vandalism and violence in Bengaluru on August 11 saw a Muslim mob running amok, attacking policemen at will, setting fire to vehicles and the house of the local Congress MLA Akhanda Srininvasa Murthy as the mob felt aggrieved at alleged offensive remarks against Prophet Muhamad on WhatsApp.
Also read: Muslim men form human chain to protect temple; video goes viral
Around a thousand youth, gathered and went berserk, throwing all norms of gentlemanly behaviour to the dustbin.               
Meanwhile, Karnataka home minister Basavaraj Bommai on Wednesday (August 12) said that the government was considering banning organisations like the Popular Front of India (PFI) and its political arm, Socialist Democratic Party of India (SDPI).
Social Democratic Party of India (SDPI) leader Muzzamil Pasha has been arrested and made accused number one by Bengaluru east division police for his alleged role in instigating a mob in Bengaluru violence on Tuesday evening (August 11).
Also read:Property should be recovered by the people who have done this, says home minister
Referring to the sequence of events that unfolded in the state capital, Bommai while condemning the goondaism and violence in areas under two police station limits, said the police resorted to firing as a last resort as rioters were relentless in their attack on the Pulikeshi Nagar Congress MLA R Akhanda Srinivas Murthy's house, police station, indulging in arson and stone pelting on police and damage to public. Three people died in the firing, Bommai said.
Bommai said, "I have to make an important announcement regarding the recovery of the property that was vandalised in the violence. As per Supreme Court direction, any public property damage should be recovered by the ones responsible for it. We are taking action immediately. We are identifying the people and assessing the damage  and we will see to it that properties are recovered."
Last Updated Aug 13, 2020, 10:09 AM IST