WTC Final, IND vs AUS: Steve Smith reveals bowling strategy that left India's top order in disarray
On Day 2 of the World Test Championship (WTC) final, India found themselves in big trouble at 151 for five, trailing Australia by another 318 runs at the Oval.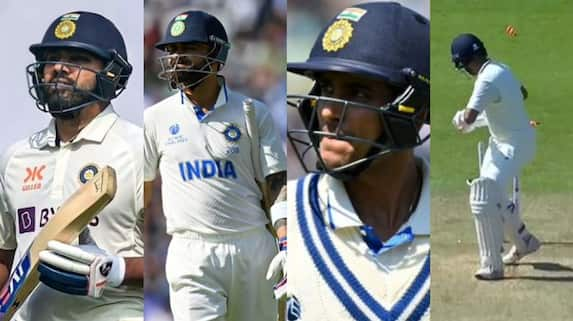 In the World Test Championship (WTC) final against India, Australian batter Steve Smith said that his bowlers benefited from persistently attacking the off stump on ground with varying bounce. At the end of day two at the Oval, India was in serious trouble at 151 for 5, 318 runs behind Australia.
Also read: WTC Final, IND vs AUS: From Siraj's 4-wicket haul to poor batting by Indian top order - Talking points from Day 2
Two batters, Shubman Gill and Cheteshwar Pujara, who were expected to score big, offered no shot to balls that crashed into the stumps, while Virat Kohli got an unplayable delivery from Mitchell Starc. Australian pacers outperformed their Indian counterparts in terms of length and wicket buy.
"The length at off stump I think is important. We've obviously seen a bit of variable bounce and some seam movement. So if we're challenging the top of the stumps as much as possible, I think that's the quickest way home. You can certainly get the outside edge from there if it seams away and bounces or takes off, which a couple have. And then pads and stumps are in play with the ones that shoot low or seam back. So it's about as simple as we need to keep it, I think," Steve Smith said.
With a few fours off Mohammed Siraj's half volleys in the opening over of the day, Australia's batting mainstay reached his 31st hundred. At The Oval, where he averages close to 100, it was his third hundred.
"Yeah, I think when I first started this morning I couldn't ask for anything more than two half volleys on my pad to get me going. That was nice to get over that milestone. But, no, I was proud of the way I played. I thought I applied myself nicely. Left well yesterday morning. Hit the balls in my area and yeah it was pretty solid in defense. So yeah, felt good out there," Steve Smith said.
Also read: WTC Final, IND vs AUS: Centurion Travis Head reveals how it feel like to bat with Steve Smith
"Obviously a really good partnership with Travis Head who batted beautifully in that middle session yesterday. I thought the way he took the game on, put the pressure back on their bowlers, got them off their lengths, which I think helped me at the other end as well. Yeah, set us up for a nice innings," the Australian vice-captain added.
Talking about his love for the ground, Smith remarked, "I think in terms of English wickets it's probably as close to Australia as you get I suppose. The pace and bounce that you can get in the surface and if you get yourself in the outfield is obviously the square goes the whole way across so you get good value for your shots. So, yeah, I've enjoyed playing here and it was nice to score a few out here again." 
Last Updated Jun 9, 2023, 12:05 PM IST