'Wouldn't want 50 overs to be replaced by T20' - Gordon Greenidge
The advent of T20 has constantly threatened the existence of Tests and ODIs. While Gordon Greenidge remains a Test cricket adherent, he does not envision replacing the 50-over game with the shortest format.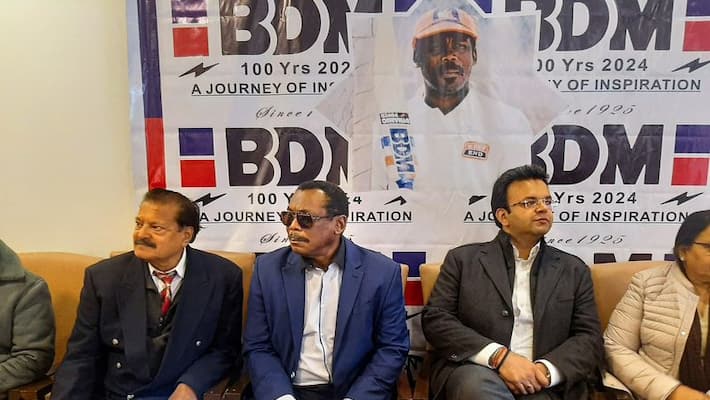 A part of Windies cricket's golden period in the 1970s and 80s, Gordon Greenidge still watches "only Tests" as he hasn't yet warmed up to the slam-bang nature of the Twenty20 (T20) version. On a whirlwind trip to the national capital, the 71-year-old arrived at the Feroz Shah Kotla from Delhi's Terminal 3 on Delhi Metro. The bat manufacturing company that invited Greenidge for a promotional event factored in the heavy traffic owing to a political event. One can safely bet that the late afternoon tube rail passengers would have hardly recognised the man, whose square cuts were the most ferocious and still remembered by contemporaries.
"I am not criticising T20, but it is not my game. Yes, it is there and there to stay. It is exciting. Then, there is enjoyment. When you go to a game, you want to enjoy it. Yes, it's good to watch, but it's not a game I watch regularly. I am the Test match person, and I have always been one. So, it's not a criticism, but it is my personal view," Greenidge said during his short but eventful media interaction.
ALSO READ: Who does Virat Kohli credit for creating 'big difference' in his batting?
For a purist, with 19 Test hundreds and 30 international tons overall, he opined that T20 is purely a "spectator's sport" and not a cricketer's. So, would ODIs become less relevant over time? "Frankly, I don't want 50 overs replaced by T20 cricket. T20 is purely a spectator's sport and not a cricketer's sport. To me, it's like fast food. The Test match is real cricket. Fifty overs is like a midway, 20 overs, and now it has gone ten overs. Where are you going to go from here? Two overs, one over?" he asked sarcastically.
For Greenidge, the more significant concern is cricket's most pristine form -- Tests. "Let's keep cricket alive, but please do not banish Test cricket. That is the Test and real cricket we are here for, or we all grew up with," he pleaded. But Greenidge also fully understands the viewers' connection with the shortest format.
ALSO READ: 'TRYING TO BE THE AJINKYA THAT I USED TO BE' - RAHANE ON HIS TEST COMEBACK
"We want to see as much as possible excitement in cricket in a day's play. Where you can do a full day's employment and then go and see a game in the evening, take your family along, it is great, but it is purely for spectator's enjoyment," added Greenidge.
I don't watch Windies cricket anymore
His answer to a query from PTI about the Windies cricket team's terminal decline was sharp and short. "It used to hurt me, but it doesn't hurt me anymore. Because I don't watch cricket anymore. If I heard about Test cricket or a young player being spoken of, I would go alone and see that player and judge. But I don't, as a rule, go to the arena and watch cricket. Especially T20s," Greenidge noted.
ALSO READ: 'Game-changer' - Cricketers, fans applaud BCCI after Viacom 18 bags Women's IPL media rights for Rs 951 crore
Being run out at the non-striker's end for backing up isn't a pleasant feeling
The cricket world is polarised on a bowler running out a non-striker for backing up too far. 'Mankading', the term coined by the Australians back in 1948 after Indian legend Vinoo Mankad ran out batter Bill Brown, remains a sensitive issue.
While he doesn't like the mode of dismissal, as it doesn't involve skill, Greenidge wants a nuanced view to be taken by all game stakeholders. "It is not a pleasant way for a batter to lose his wicket. Some will say it is not in the spirit of the game, but then, I will say if a batter is stealing two or three metres, that is also stealing, so what do you do?" he wondered.
ALSO WATCH: IND vs SL 2022-23, 3rd ODI: 'Started focussing on white-ball cricket after a poor IPL' - Mohammed Siraj
"It is said that you can inform the umpire when this is happening, and should it continue, you have to break the stumps and get the batter out. But that only happens sometimes. Cricket, most of the time, is played as per the laws of the game. Sometimes, it is broken," continued Greenidge.
Greenidge also feels for the bowlers, as they get penalised for overstepping. "It is not suitable for batters to steal two or three metres and then bowlers marginally overstepping and getting a free hit. People want to see sixes and fours, but if you are a real cricket lover, you want to see competition between bat and ball and not just one-sided games. So, I expect some changes or amendments in the law shortly to curb things like that," he concluded.
(With inputs from PTI)
Last Updated Jan 17, 2023, 10:25 AM IST