Who does Virat Kohli credit for creating 'big difference' in his batting?
Virat Kohli is back to his blazing form, as he slammed his 46th ODI century during the final Thiruvananthapuram ODI against Sri Lanka on Sunday. Meanwhile, here is who he has credited for making a "big difference' in his batting.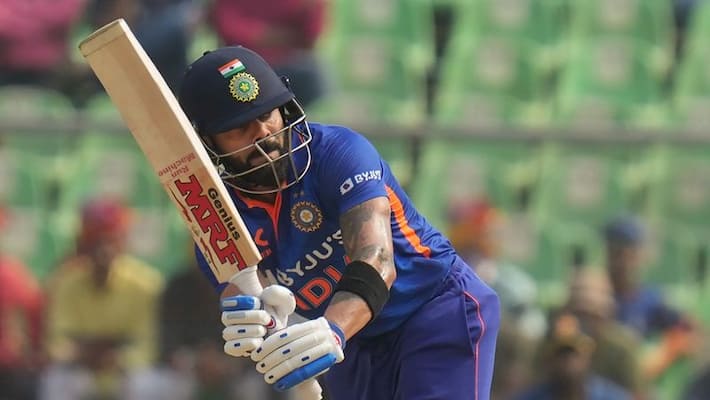 Indian run-machine Virat Kohli has credited the team's throwdown trio of D Raghvendra, Nuwan Seneviratne and Dayanand Guarani for making a "big difference" to his batting. The throwdown specialists use a sidearm, a cricketing equipment in the shape of a long spoon, to hurl the ball at high speed (in the range of 140-150 km/h) to test the batters at nets.
"All three of them have given us world-class practice every time we play. They challenge us in the nets like any 145 or 150kmph pace bowlers. They always try to get us out and make sure that they test us regularly," Kohli told young Indian opener Shubman Gill in an interaction on BCCI.tv after the third and final ODI against Sri Lanka at the Greenfield International Stadium in Guwahati.
ALSO READ: 'TRYING TO BE THE AJINKYA THAT I USED TO BE' - RAHANE ON HIS TEST COMEBACK
"At times, it feels very intense. That has been the difference in my career, to be very honest. From where I was as a cricketer before I started getting this practice to where I am today," added Kohli. Karnataka's Raghavendra, fondly known as 'Raghu', joined the Board of Control for Cricket in India (BCCI) from the National Cricket Academy (NCA) in Bengaluru and was the first to join Team India. He regularly gave throwdowns to batting maestro Sachin Tendulkar and former Indian captain MS Dhoni.
India then hired left-handed Sri Lankan Seneviratne in 2018 to help them prepare for left-arm pacers. A civic volunteer in Kolkata Police, Dayanand, who was with Indian Premier League's (IPL's) Kings XI Punjab (now Punjab Kings), was roped in by India after Raghu tested positive for COVID-19 in 2020 and has become a permanent support staff since then.
ALSO READ: 'Game-changer' - Cricketers, fans applaud BCCI after Viacom 18 bags Women's IPL media rights for Rs 951 crore
"A lot of credit has gone to these guys, who have given us practice regularly, and their contribution has been unbelievable. It would be best if you guys remembered their names and faces because, behind our success, a lot of effort has been put in by these guys," Kohli stated.
Gill, interviewing Kohli, quickly added: "These three combined would have had 1200 to 1500 wickets. They prepare us for all kinds of conditions heading into the match." India thrashed Sri Lanka by 317 runs in the final ODI to sweep the series 3-0, with Kohli notching two hundred from three matches.
ALSO WATCH: IND vs SL 2022-23, 3rd ODI: 'Started focussing on white-ball cricket after a poor IPL' - Mohammed Siraj
Kohli said it was an ideal start to the ICC World Cup year: "It's been a great start. It's been a while since I started the year like this: I got a hundred, scored two hundred in the series, and became the Man of the Series. I am happy that I can start like this in the World Cup year, and I know I can be consistent. When I start like this, and I start feeling confident, then things usually go well. The team is gelling well as a batting unit. You guys have been phenomenal at the top."
Kohli congratulated Gill for scoring his first century at home as the youngster converted his start to make a sublime 116 off 97 balls. "Congratulations on your first hundred in India. You deserved to get one in the first match. Today also you played phenomenally well, and many more at home and away will come in the future," he remarked.
ALSO READ: IND vs SL 2022-23, 3rd ODI: 'I don't have a desperation to get to a milestone' - Virat Kohli
"I enjoyed batting with Shubman. We haven't batted for very long many times. But, today was the day we had a good partnership, and it helped the team as well," said Kohli. The duo shared 131 runs for the second wicket, as India posted a massive 390/5 before skittling out Sri Lanka for 73.
"It was disappointing to get out in the first ODI. I was looking to go big in that match, but unfortunately, nahi ho paaya [could not happen]. In Kolkata, too, I was playing well but failed to convert my start. Aaj yahi tha ki agar start milta hai to lamba jaane ki koshish karunga [Today, I just wanted to take it deep]. I have also felt in Test matches that I left a run there.
ALSO READ: IND VS SL 2022-23, 3RD ODI: 'MOHAMMED SIRAJ DESERVED ALL THOSE SLIPS; HE IS A RARE TALENT' - ROHIT SHARMA
Crediting Kohli for motivating him and changing the match's tempo, Gill concluded: "While we were in the middle, you told me that today I am going to score big, and you changed the rhythm right from the word go."
(With inputs from PTI)
Last Updated Jan 16, 2023, 5:25 PM IST