'Will never accept such words': Yuvraj Singh slams Shahid Afridi for his comments on PM Modi
Yuvraj Singh has slammed Shahid Afridi after the former Pakistan captain criticised PM Narendra Modi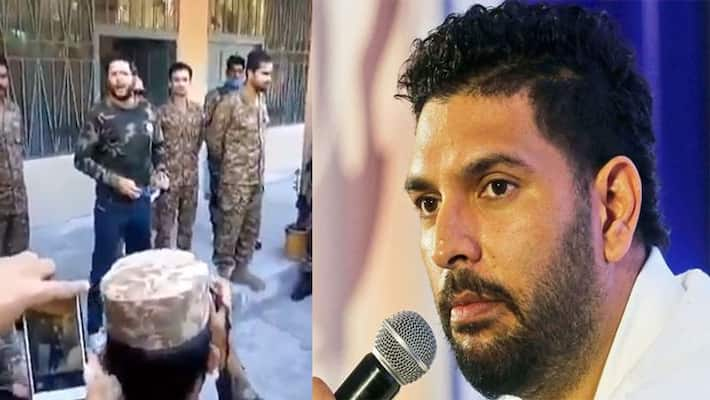 Bengaluru: India's World Cup hero Yuvraj Singh has slammed former Pakistan captain Shahid Afridi for his controversial comments on Prime Minister Narendra Modi.
In a video that has gone viral, Afridi is seen speaking to villagers in Pakistan occupied Kashmir (PoK). He had criticised PM Modi.
Also read: Shikhar Dhawan hits back at Shahid Afridi
Yuvraj, who has previously helped Afridi for his charity work, said he will never extend his support to the all-rounder. Indian cricket fans had earlier attacked Yuvraj for supporting Afridi.
Also read: Virat Kohli reveals his father refused to pay bribe for selection
"Really disappointed by @SAfridiOfficial 's comments on our Hon'b PM @narendramodi  ji. As a responsible Indian who has played for the country, I will never accept such words. I made an appeal on your behest for the sake of humanity. But never again. Jai Hind (sic)," Yuvraj tweeted on Sunday (May 17).
This is not the first time that Afridi has criticised India. Previously too he  has raked up the Kashmir issue on several occasions. Recently, he had asked Pakistan Cricket Board (PCB) to include a team from Kashmir in the Pakistan Super League (PSL) Twenty20 tournament.
Also read: Yuvraj issues statement after fans attack him for supporting Afridi
"I've been deeply humbled by all the love shown to me by the people of Kashmir. I hope that there will be a team from Kashmir in the next edition of the PSL. If there will be a team from Kashmir, I will want to play for that team," Afridi had said.
Also read: Afridi thanks Harbhajan, Yuvraj
Last Updated May 18, 2020, 12:03 PM IST