'What Virat said...': Old video of Sachin Tendulkar discussing 49th ODI ton as Kohli equals record goes viral
Indian batting icon Virat Kohli equalled Sachin Tendulkar's record of 49 ODI centuries during India's clash against South Africa in the ongoing ODI World Cup 2023 at the iconic Eden Gardens, Kolkata, on Sunday.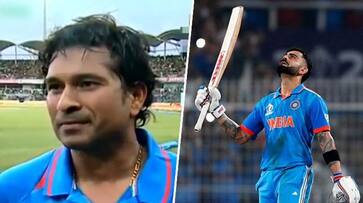 In the world of cricket, records stand as an indelible testament to a player's skill, dedication, and lasting impact on the sport. Sachin Tendulkar, often regarded as one of the greatest batsmen in cricket history, recently found himself back in the limelight as an old video of him reflecting on his 49th ODI century and monumental 100th international ton went viral. This resurgence in attention coincided with the momentous occasion when Virat Kohli, the modern torchbearer of Indian cricket, equalled Tendulkar's record of 49 ODI centuries, a feat that reignited discussions and appreciation for the legacy left by the master himself.
Virat Kohli achieved equalled the Master Blaster's 49 ODI centuries record on his 35th birthday during India's ODI World Cup 2023 match against South Africa at the iconic Eden Gardens in Kolkata on Sunday. The Eden Gardens roared with chants for Kohli, acknowledging his impressive accomplishment in front of an electrifying crowd. Maintaining his exceptional form throughout the tournament, Kohli's unbeaten 101 off 121 deliveries included ten boundaries, adding another remarkable achievement to his illustrious career.
Also read: Virat Kohli equals Sachin Tendulkar: Over 4.3 crore fans witness King's 49th ODI ton on 35th birthday (WATCH)
Leading up to his 49th century, Kohli narrowly missed the mark during the match against Sri Lanka at the Wankhede Stadium, falling short at 88. Even in the presence of the legendary Sachin Tendulkar, who witnessed the game, Kohli's quest for the century fell just shy. Previously, in a compelling innings of 95 off 104 balls, Kohli played a pivotal role in India's victory over New Zealand at the Himachal Pradesh Cricket Association Stadium.
Kohli's journey to this milestone had been closely followed as he was only one century away from matching Tendulkar's incredible record. Notably, Kohli achieved this feat in 277 innings, while Tendulkar took 452 innings to reach a similar milestone. 
It was on March 16, 2012, Sachin Tendulkar made history as the sole cricketer to achieve a remarkable milestone of scoring a hundred international centuries. During the match against Bangladesh in Dhaka, the legendary "Master Blaster" attained this magical three-figure mark, marking the final instance of this extraordinary achievement in his illustrious international career. It was his 49th ODI century, to go with the 51 tons he notched in Test cricket.
The historic moment unfolded at the Sher-e-Bangla Stadium in Dhaka during the Asia Cup match against Bangladesh. Sachin Tendulkar reached the century milestone after facing 138 deliveries, concluding his innings with a formidable 114 off 147 balls. Tendulkar's exceptional performance contributed to India's total of 289/5. However, despite his impressive century, the final outcome resulted in a defeat for India as Bangladesh successfully chased down the target with just four deliveries remaining.
Following Virat Kohli's achievement of equalling the 'God' of cricket, an old video of Tendulkar reflecting upon his 49th ODI century that marked his 100th ton in international cricket has now gone viral. The video, an eloquent testament to Tendulkar's humility and focus on team objectives, showcased his perspective on the significance of his 49th ODI ton and the much-celebrated 100th century in international cricket. Tendulkar expressed his sentiments on the lesser-discussed 99 centuries, highlighting the overwhelming attention his 100th century received, while stressing the importance of team objectives over personal milestones.
"I'm not playing only for my 100th century. The 99 hundreds that I scored, nobody spoke about it. Everyone was talking only about 100th 100. Everyone had their opinion, but eventually I've got to do what is important for the team," said Tendulkar in the old video.
Tendulkar's remarks revealed the depth of his sportsmanship, emphasizing the collaborative nature of cricket and the need to prioritize team goals over individual achievements. His conversation with Virat Kohli about the challenging pitch conditions and the strategic target of 275-280 runs exemplified his commitment to collective success, demonstrating the mentorship and camaraderie between the two cricketing legends.
"It was slightly different because the ball was not coming onto the bat and I was talking to Virat (Kohli), he also felt the same and the total we had in mind was about 275-280. If we could get to that total, then it would be a good total on this track because I didn't bat much in the earlier match, but what Virat had to say is that this wicket is slower than the last one," he had stated.
Furthermore, Tendulkar's light-hearted comment about having lost "about 50 kilos" indicated his ability to gracefully tackle the pressure and expectations that surrounded him throughout his illustrious career, displaying a subtle sense of humor amid the intense scrutiny that came with being a cricket icon.
The resurfacing of this video serves as a poignant reminder of the perseverance, resilience, and unwavering pursuit of dreams, as Tendulkar shared a message encouraging everyone to chase their aspirations. His personal anecdote of waiting 22 years before clinching the World Cup victory in international cricket resonates as a testament to the eventual realization of dreams, urging individuals not to relent in their pursuit of excellence.
"Enjoy the game and chase your dreams. Dreams do come true. I had to wait for one for 22 years, we won the World Cup after 22 years of international cricket. So, dreams do come true. Don't stop chasing your dreams," Tendulkar concluded.
Also read: 'Maintaining emotional composure is a vital aspect of my performance' says Virat Kohli
It's important to consider the differing circumstances under which both players achieved their centuries. Kohli, predominantly a top-order batsman, contrasted with Tendulkar, who had batted lower in the order for about 80 matches before establishing himself as a top-order batsman, adapting to varying playing conditions. Additionally, the cricketing environment has evolved, with changes in regulations and playing conditions. Tendulkar played during an era where five fielders were allowed outside the 30-yard circle, and only one ball was used in comparison to the contemporary era with two balls from different ends and one less fielder.
As Virat Kohli stands on the precipice of surpassing Tendulkar's ODI century record, this reflection by the maestro himself brings a renewed sense of appreciation for the journey of achieving such milestones. It highlights the legacy of Tendulkar and the continuity of excellence in Indian cricket, as players like Kohli continue to carry forward the spirit of the game.
Last Updated Nov 6, 2023, 4:01 PM IST