'Well paid Pakistan': Babar Azam's team trolled despite eliminating Bangladesh; meme fest erupts after WC win
Pakistan's seven-wicket win over Bangladesh in the ODI World Cup 2023 on Tuesday in Kolkata positioned them at fifth place in the points table. However, Bangladesh's defeat signifies their elimination from the race for the semi-finals.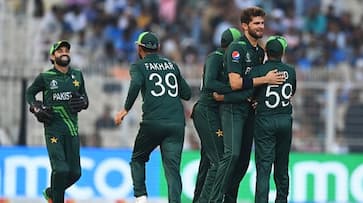 The Pakistan cricket team, captained by Babar Azam, secured a crucial victory, ending a streak of four consecutive defeats at the ODI World Cup 2023 in Kolkata on Tuesday and revitalizing their chances for a semi-final spot. In a pivotal match against Bangladesh, Pakistan showcased dominance in both batting and bowling, clinching a comfortable seven-wicket win. This triumph marked Pakistan's third win in seven matches, positioning them at fifth place in the points table. However, Bangladesh's defeat in this match signifies their elimination from the race for the semi-finals.
Led by Shaheen Shah Afridi, Pakistan's fast-paced bowling unit effectively dismantled Bangladesh, restricting them to a subpar 204 runs in the ODI World Cup 2023 clash. The 23-year-old Afridi disrupted the Bangladeshi top-order, achieving the fastest milestone of 100 ODI wickets by a Pakistani bowler, concluding with figures of 9-1-23-3. Meanwhile, Mohammad Wasim Jr. managed to clean up the tail, securing figures of 8.1-1-31-3, as Bangladesh succumbed in 45.1 overs.
Although Shaheen Shah Afridi seemed to have slightly reduced his pace following a knee injury, the 23-year-old employed clever variations and skillfully exploited swing on a relatively flat Eden Gardens pitch. Afridi immediately made an impact by dismissing Tanzid Hasan with extra bounce and late swing, marking his 100th ODI wicket, becoming the fastest Pakistani to reach this feat, surpassing Saqlain Mushtaq's record by a couple of innings.
Another commendable moment occurred when Usama Mir executed a splendid low diving catch at forward short leg, securing his second wicket in as many overs for Shaheen Shah Afridi. Bangladesh found some respite as Mahmudullah contributed a responsible 56 off 70 balls, forming a 79-run partnership with Litton Das, who scored 45 runs off 64 balls.
Also read: ODI World Cup 2023: 'Unfit' Pakistan team continue to cheat on diet; order this from famous Kolkata restaurant
Facing a daunting situation at 6/2 in 2.4 overs, Bangladesh risked yet another collapse as Haris Rauf dismissed Mushfiqur Rahim, reducing their score to 23/3. Mahmudullah's resilient innings came to the team's aid, averting a deeper crisis. Bangladesh showcased their intent by promoting Mahmudullah to the No. 5 position.
Once Shaheen Shah Afridi was taken off the attack, Pakistan struggled to maintain pressure from both ends, allowing Litton and Mahmudullah to capitalize on the opportunity for a quick recovery. Wasim Jr. and Mir, who previously impressed against South Africa, offered a few loose deliveries, enabling the Bangladeshi duo to find gaps and accumulate runs.
Despite Bangladesh looking comfortable, off-spinner Iftikhar Ahmed (1/44) provided a crucial breakthrough by dismissing Litton. Afridi's reintroduction into the attack, adjusting his line to bowl around the wicket, led to an exceptional delivery, ending Mahmudullah's innings in the middle.
Bangladesh's skipper, Shakib Al Hasan, attempted to build a partnership but squandered his start, falling to a short ball delivered by Haris Rauf (2/36).
As per the current standings in the ODI World Cup 2023, the top four teams in the points table are as follows: India holds the lead with 12 points from 6 games and possesses a Net Run Rate (NRR) of +1.405. South Africa secures the second position with 10 points from 6 games and an NRR of +2.032. Following closely, New Zealand holds the third spot with 8 points from 6 games and an NRR of +1.232. Australia occupies the fourth position also with 8 points from 6 games and an NRR of +0.970.
The fifth-placed Pakistan cricket team currently holds six points from seven games played, with a Net Run Rate of -0.024. Their upcoming matches are scheduled against New Zealand and the defending champions, England. While New Zealand exhibits strong performance, the reigning champions, England, have not displayed their anticipated form in the tournament. To maintain their chances for the semi-finals, Pakistan must secure victories in these crucial matches against New Zealand and England and also hope for favorable results in other teams' games.
Also read: Jasprit Bumrah vs Shaheen Afridi - Pakistan legend Wasim Akram settles debate once and for all (WATCH)
Despite this win over Bangladesh, Pakistan team were heavily trolled on X, formerly Twitter, as users carpet bombed Babar Azam and Co. with memes and some even claimed the match was fixed.
Last Updated Oct 31, 2023, 10:30 PM IST