Jasprit Bumrah vs Shaheen Afridi - Pakistan legend Wasim Akram settles debate once and for all (WATCH)
Legendary Pakistan pacer Wasim Akram has finally given his verdict on the Jasprit Bumrah vs Shaheen Afridi debate amid the ongoing ODI World Cup 2023.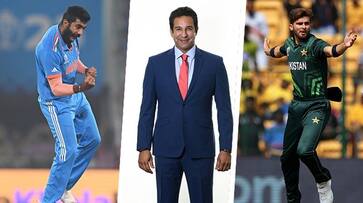 Jasprit Bumrah recently showcased his prowess with the new ball during India's clash against defending champions England in the ongoing ODI World Cup 2023. The formidable pacer secured three crucial wickets, including the golden duck of Joe Root, setting the stage for India's victory in the high-profile encounter. Wasim Akram, a cricketing legend, heaped praise on Bumrah, asserting that the Indian star surpasses the pace bowlers in the Pakistan team.
Also read: 'Fight for every ball': Rashid Khan's inspiring speech that fired Afghanistan to WC win over SL (WATCH)
Bumrah's inclusion in the World Cup squad wasn't assured due to his prolonged absence from the game because of injury concerns over the past year. Nonetheless, since his return, the pacer has injected renewed vigour into India's bowling unit, consistently delivering impressive performances. Akram was notably impressed by Bumrah's displays, declaring him as the 'best pacer in the world' presently. Comparisons often drawn between Bumrah and Pakistan's Shaheen Afridi appeared conclusively settled by Akram's glowing assessment.
In a conversation on A-Sports, Wasim Akram emphasized Bumrah's exceptional skill set and dubbed him the pinnacle of bowlers globally. He commended Bumrah's control, pace, variations, and overall completeness as a bowler. Akram highlighted Bumrah's abilities with the new ball, marveling at his capacity to generate movement on various pitches, citing his exceptional pace, carry, and follow-through.
"He is the best in the world right now. Top of the ladder! The control, the pace, the variations, just a complete bowler. A treat to watch. With the new ball, to get this kind of movement on this kind of pitch ... pace, carry, follow-through... you name it he's a complete bowler," Wasim said in a chat on A-Sports.
Akram further lauded Bumrah's proficiency with the new ball, comparing it to his own experiences. He acknowledged that Bumrah's mastery, especially when bowling to left-handers from around the wicket or varying his line and length, posed significant challenges for batters.
"When Bumrah is bowling to a left-hander from around the wicket and hits the ball on the seam... And when he's bowling from wide of the crease, the batter will think the ball is coming inside. He will play for that angle, but the ball hits the pitch and moves away rather than coming in. Most of the time, you are going to be beaten. When I used to bowl outswingers like that to right-handed batters with the new ball, sometimes I couldn't control the ball also. But Bumrah definitely has better control with the new ball than myself," Wasim further explained.
Also read: ODI World Cup 2023: 'Unfit' Pakistan team continue to cheat on diet; order this from famous Kolkata restaurant
Wasim humorously suggested that the only way to halt Bumrah's effectiveness would be to pilfer his bowling spikes, emphasizing the uncertainty he creates for opposing batsmen. 
"The length where he bowls with the new ball is what creates uncertainty for the batters. Bumrah ka ek hi ilaaj hai uspe pressure daalne: uske spikes chori karlo. Aur koi hal nahi hai(There's only one way to put pressure on Bumrah. Steal his bowling spikes. There's no other cure)," the legendary pacer said.
"Why Bumrah is more lethal than Pakistan bowlers, because he plays more Test cricket, while our bowlers they don't play in the longer format enough," Akram explained.
In essence, Bumrah's outstanding performance and skill set have garnered significant praise from a cricketing icon like Wasim Akram, highlighting his supremacy as a pace bowler and the challenges he poses for opposing teams.
Last Updated Oct 31, 2023, 3:07 PM IST