'We need improvement at the senior level' - Mithali Raj after India's ICC Women's U-19 T20 World Cup victory
The Indian women's U-19 team displayed great promise, earning a title success during the 2023 ICC Women's U-19 T20 World Cup. However, Mithali Raj is still wary of improvements needed on the senior side.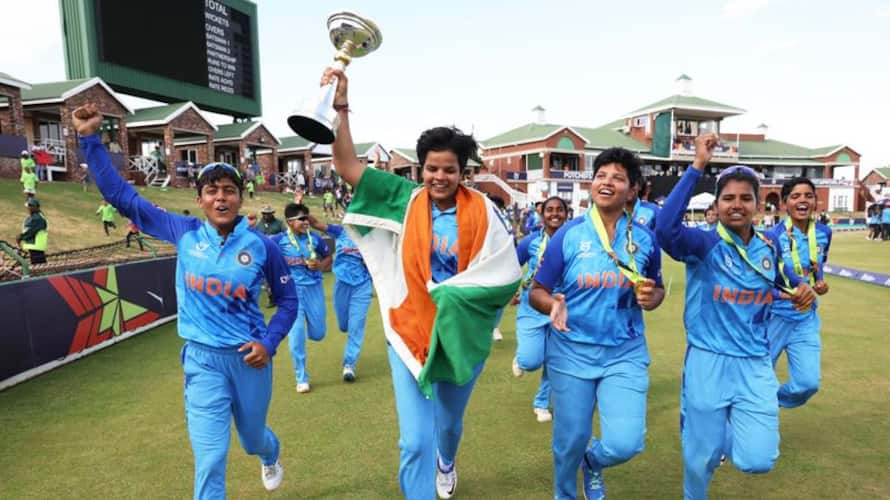 India great Mithali Raj sees at least three to four members of the triumphant Women's U-19 T20 World Cup squad graduating to the senior level and potentially playing a pivotal role in the ICC Women's World Cup at home in 2025. Leg-spinner Parshavi Chopra, opener Shweta Sehrawat, pacer Titas Sadhu, off-break bowler Archana Devi and left-arm spinner Mannat Kashyap were among the standout performers of the U-19 side that outplayed England in the final in Potchefstroom on Sunday. Mithali, invited by the International Cricket Council (ICC) to interact with the cricketers ahead of the inaugural edition, feels women's cricket has finally got a platform from which the players can be fast-tracked or groomed for the future.
"The spinners and seamers have been very impressive, and in both departments, we need improvement at the senior level. It's always good to have more options and build a solid pool of players. When you compare it to the highest level, there is a difference in standards, technique and temperament at the U-19 level. We will have to work on them. And from what I saw in South Africa, they are excellent," Mithali, who called time on a 23-year-old illustrious international career last year, told PTI.
ALSO READ: ICC WOMEN'S U-19 T20 WORLD CUP: 'ONLY FOCUSED ON WINNING THE UNDER-19 CUP' - SHAFALI VERMA AFTER TITLE TRIUMPH
The leading run-getter in women's One-Day International (ODI) cricket said the National Cricket Academy (NCA) in Bengaluru prepared the team well for the first-ever global age-group event. From now on, she wants all the squad members of the victorious outfit to toil on the domestic circuit while the three or four who are ready for the higher level can be slowly drafted into the national side.
"Playing domestic cricket is essential for them and should be addressed. WPL will also get them the required exposure. The next ODI World Cup is at home, and we have not won a global event yet at the senior level. I am sure the BCCI prioritises that and will keep these players in the mix," said Mithali
ALSO READ: Titas Sadhu - The tale of a sprinter and swimmer becoming a World Cup-winning pacer
With the talent pool smaller than men's cricket, the probability of the women's U-19 players reaching international cricket increases significantly. On average, one or two from the Men's U-19 World Cup go on to play for India, but Mithali feels the number should be higher in women's cricket. She also fondly recalled her interactions with the Shafali Verma-led squad before the start of the tournament in South Africa.
"It was not much of a technical conversation. It was more about the preparation, and they [juniors] had many questions about that. Things like how to prepare because these girls are very young, and there is a lot of difference between the team and personal training. I spoke about how to make the transition. They are very keen learners, and because of their level, they are also very energetic," Mithali noted.
ALSO READ: 'HAPPY THAT MY DAUGHTER IS A PART OF THAT WIN' - PARSHAVI CHOPRA'S FATHER ON INDW U-19 T20WC TRIUMPH
Mithali also praised Women's U-19 head coach Nooshin Al Khadeer. "She has worked tirelessly with this bunch of cricketers and deserves all the credit. She has done well in all her assignments, whether with the Railways in domestic cricket or now at the India U-19 level," she reckoned. Asked if Nooshin is ready to coach the senior India team, Mithali replied in the affirmative. "Yes, of course."
"I knew my playing days were over when I retired from international cricket"
Mithali will be part of the "game-changing" Women's Premier League as a mentor with the Adani-owned Gujarat Giants (GG). Since she is yet to retire from domestic cricket, there was speculation that she might return to the field for the inaugural edition of the Twenty20 (T20) league.
ALSO READ: ICC Women's U-19 T20 World Cup 2023 - India decimates England by 7 wickets; supporters delighted
"When I announced retirement [in June last year], deep inside, I knew I won't be playing again. The league is finally happening in March, and I could not be more excited to be part of it and share whatever I have learnt over the years," concluded Mithali.
(With inputs from PTI)
Last Updated Jan 30, 2023, 2:44 PM IST