Watch: Sachin Tendulkar surprises family on his 25th wedding anniversary; mother prepares special dish
Sachin Tendulkar had a surprise for his family on the occasion of his 25th wedding anniversary. He shared the video on Instagram. Watch it here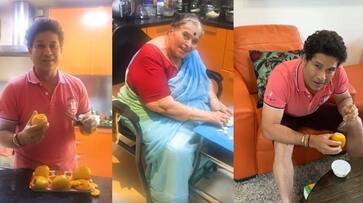 Mumbai: Batting legend Sachin Tendulkar surprised his family by preparing a special sweet dish on the occasion of his 25th wedding anniversary on Monday (May 25).
The 47-year-old Tendulkar, who has many records to his name, reached a special milestone in his personal life. He and Anjali celebrated their 25th wedding anniversary. They had married on May 25, 1995. At the time, Tendulkar was into his sixth year of international cricket, having made his debut in 1989.
Also read: Former players want review of ICC's 'back to cricket' guidelines
On this special day, Tendulkar turned chef. Also, his mother Rajni was in the kitchen preparing a special dish for him. The 'Master Blaster' took to his Instagram account to post a video where he is seen making 'Mango Kulfi'.
Also read: Hosting IPL 2020 will have 'huge impact', says Shikhar Dhawan
"Surprise for our Wedding Anniversary Made this Mango Kulfi as a surprise for everyone at home on our 25th wedding anniversary (sic)," Tendulkar wrote with the video.
Fans loved the video and it has so far garnered over 1.8 million views. Tendulkar explained the entire preparation for 'Mango Kulfi' and at the end of the video, he tastes the sweet dish and says it is "superb". He also added that he wants to eat more but will share with his family.
Also read: Virat Kohli shares unseen photo
It was in 1990 that Tendulkar met Anjali. During his retirement speech in 2013, Tendulkar had said it is the best partnership of his life.
"The most beautiful thing happened to me when I met Anjali in 1990. I know that being a doctor there was a big career in front of her. When we had a family, she decided that I should continue playing and she took care of the children. Thanks for bearing with me for all the nonsense I've said. You are the best partnership that I had in my life," Tendulkar said after playing his 200th and final Test in Mumbai in 2013.
Currently, India is under a lockdown until May 31 to contain the spread of the coronavirus (COVID-19). Tendulkar has been sharing positive messages for fans and urging them to stay at home to win the battle against the virus.
Last Updated May 26, 2020, 10:59 AM IST