Watch: Anushka Sharma gives Virat Kohli 'beautiful haircut' amid coronavirus lockdown
Anushka Sharma shared a video where she is seen giving a haircut to Virat Kohli. The Indian captain thanked his wife for a 'beautiful haircut' amid the 21-day lockdown due to coronavirus (COVID-19) pandemic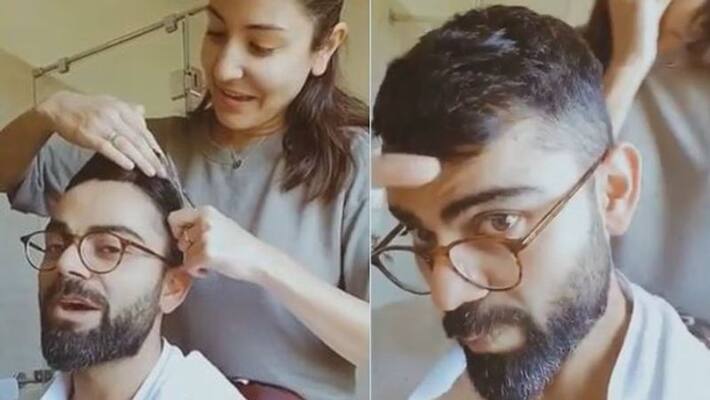 New Delhi: India captain Virat Kohli got a "beautiful haircut" from his actress wife Anushka Sharma as the couple stayed at home during the 21-day lockdown to contain the spread of the deadly novel coronavirus (COVID-19).
On Saturday morning (March 28), Anushka took to her Instagram account to post a video where she is seen giving a haircut to Kohli. The video was captioned "Meanwhile, in quarantine.."
Also read: Virat Kohli disappointed with people having fun during lockdown
In the video, Kohli said, "This is what quarantine does to you. You allow things like this to happen. Getting your haircut with kitchen scissors." Anushka said it was a "new look" given to her husband.
At the end of the video, Kohli appreciates Anushka's work, "Beautiful haircut by my wife".
Also read: Sachin Tendulkar to donate money to PM relief fund
On Friday (March 27), Kohli had taken to his Twitter account to urge every Indian to stay indoors and not to violate the lockdown. The Indian skipper asked everyone to follow the government's directives in the battle against coronavirus.
In a video, Kohli said, "What I have seen in the last few days, where people were crowding, coming on to the streets, I think we are taking this battle (against coronavirus) lightly. This battle is not ordinary as it looks. I request you all to follow 'social distancing'. Whatever directives have been given by the government, please follow them with complete honesty. Just think, if your carelessness leads to problems to someone in your family, how will you feel?
"Our government, medical experts have been working very hard (to fight the virus). This will only be successful if we as Indian citizens take full responsibility and follow everything. Coming on to roads to have fun and taking advantage of the current situation (lockdown) is not honesty as an Indian citizen. I want this to be rectified. I request you all, whatever the government is saying, please follow that. Jai Hind."
Last Updated Mar 28, 2020, 11:37 AM IST