'Thought it was joke': Australia bowler on being tested for coronavirus
An Australian fast bowler who was tested for coronavirus has explained how the process was. At first, he thought it was joke, he has revealed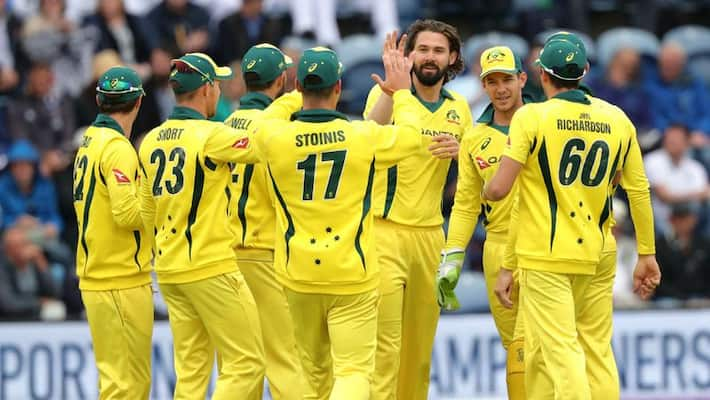 Bengaluru: Australia fast bowler Kane Richardson has spoken about how he was tested for coronavirus (COVID-19) during the team's ODI series against New Zealand recently.
Ahead of Australia's first ODI against the Kiwis in Sydney, Richardson was withdrawn from the squad and taken for tests. Later, the results came negative and the right-arm paceman heaved a sigh of relief.
Photos: No handshakes in Australia-New Zealand ODI
Australia won the first ODI but the next two games were cancelled due to fears over the spread of coronavirus.
"I was at risk because I'd travelled overseas within (the previous) two weeks and I had one of the four symptoms, so that was the reason I got tested," 29-year-old Richardson told Cricket Australia's (CA) website on Tuesday (March 17).
Also read: Kane Richardson tested for coronavirus
"I thought it was all a joke at the time but (the team doctor) was adamant it wasn't," he added.
Richardson, who was bought by Indian Premier League (IPL) side Royal Challengers Bangalore (RCB) for Rs 4 crore during the players' auction in December 2019, said the team doctor spoke to various people before the tests.
Also read: 'Will just sit by the phone', says Richardson on IPL 2020
"He spoke to various people on the phone to make sure he was doing the right thing and got the biggest swab I've ever seen out and stuck it into the back of my nose and back of my mouth, so it wasn't a pleasurable experience but that was the protocol so I was happy to go along with it.
"I wasn't expecting a positive result and thankfully that's what happened … I'm all good and I got the OK to go outside and in the fresh air again," Richardson added.
Last Updated Mar 17, 2020, 2:05 PM IST