Should Babar Azam be sacked as captain? Pakistan legends speak out amid team's ODI World Cup 2023 woes
Pakistani cricket legends heavily criticised captain Babar Azam's leadership and the team's dismal performance in the ongoing ODI World Cup 2023.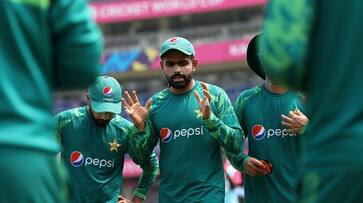 Suffering a single loss can be detrimental to any team at the Cricket World Cup, and Pakistan is experiencing the dire consequences of three consecutive defeats in this year's edition of the showpiece event. After losses to India and Australia, Pakistan's cricket team, led by Babar Azam, was handed another significant setback by Afghanistan in the ODI World Cup 2023 on Monday. In a match in Chennai, Afghanistan confidently outperformed Pakistan by successfully chasing a 283-run target.
Also read: Pakistan's Babar Azam calls for improved attitude and extra effort after shock WC defeat to Afghanistan
This resounding loss has placed Babar Azam's Pakistan on the precipice of elimination from the World Cup. Notably, former Pakistan players, including legends like Wasim Akram, Misbah ul Haq, and Shoaib Akhtar, have sharply criticised both Babar Azam's leadership and the overall performance of the team. The mounting frustration led Babar Azam to make an unusual gesture of giving his bat to Afghanistan opener Rahmanullah Gurbaz after Pakistan's eight-wicket loss, a move that didn't sit well with many in the cricketing community.
Former Pakistani pacer Aaqib Javed called for Shaheen Shah Afridi to replace Babar as the captain of Pakistan's white ball formats. He stated, "Shaheen is the best bet for the future of Pakistan cricket. Babar has failed to prove himself as an able captain in white ball formats." 
Aaqib, who serves as the Director and head coach of the PSL team Lahore Qalandars, a team that includes Shaheen, Haris Rauf, Fakhar Zaman, and Abdullah Shafique, also expressed criticism for all the other players, except for Rauf, for their lackluster performance against Afghanistan.
Also read: Afghanistan players grooving to 'Lungi dance' after WC win over Pakistan takes internet by storm (WATCH)
Pakistan's World Cup campaign now hangs in the balance, with the team needing to win all four remaining games against England, South Africa, New Zealand, and Bangladesh to have a shot at reaching the semifinals. The team's poor fielding, body language, and inadequate bowling and fielding performances have led to sharp criticism from cricketing legends like Wasim Akram and Misbah ul Haq.
Wasim Akram noted that Pakistan players had not undergone fitness tests for a year and criticised their apparent lack of agility and commitment. "The fielding and body language of the players was very poor and unconvincing (against Afghanistan). They just didn't appear capable of defending 283 which is not a small total. The bowling was ordinary and the fielding levels were pathetic," Akram said.
"In modern day cricket how do you expect to do well if you are not 100 percent fit? How can you take catches or stop boundaries? "The way some of our players fielded it appeared as if they were enjoying a diet of rich dishes and food," he added.
Misbah ul Haq pointed out Babar Azam's ineffective captaincy, particularly in terms of bowling changes and field placements. 
"He has wasted Haris Rauf by bringing him on in the power play when there are only two fielders outside the circle. Haris was hit in his first over (against Australia) and he lost all confidence. He should be brought on with at least a sweeper at cover and three other fielders on the leg-side deep," Misbah said.
Interestingly, it was Misbah and Akram who played a significant role in persuading the PCB to appoint Babar as the captain for all formats, a decision that led to the removal of Sarfaraz Ahmed following the 2019 World Cup.
Also read: Who is Iftikhar Ahmed talking to? Mysterious WC video of Pakistan star leaves internet puzzled (WATCH)
Former Pakistan all-rounder Razzaq accused Babar of affecting other players' performance, noting that when Babar bats slowly, it disrupts the rhythm of the team, affecting the overall strike rate.
"When Babar bats slowly it has an adverse effect on other batters who then can't play their natural game and this is affecting Pakistan's strike rate in this tournament," Razzaq said.
The team's struggles in the tournament have raised questions about the leadership and strategies employed by Babar Azam and the overall performance of the Pakistan team.
Last Updated Oct 25, 2023, 11:34 AM IST