Pakistan's Babar Azam calls for improved attitude and extra effort after shock WC defeat to Afghanistan
In the wake of their startling loss to Afghanistan, which has left them on the verge of elimination from the ODI World Cup 2023, Pakistan's captain, Babar Azam, expressed concerns about his players' attitude in the field. He emphasised the need for additional effort to improve their fielding performance.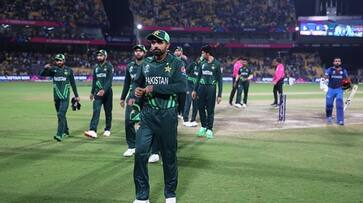 Pakistan's captain, Babar Azam, expressed his concerns about his team's performance after their shocking defeat to Afghanistan in the ODI World Cup 2023 in Chennai on Monday. He emphasised that the players lacked the right attitude, particularly in the fielding department, and called for extra effort to improve this aspect of their game.
Also read: Afghanistan players dance to glory after emphatic WC win over Pakistan; WATCH celebrations in dressing room
This eight-wicket loss marked Pakistan's third consecutive defeat in the tournament, following two initial wins. The defeat puts Pakistan on the brink of elimination, with the team needing to win all their remaining four matches to secure a spot in the semifinals.
Babar Azam criticized his team's fielding, highlighting sloppiness at the boundary and in conceding overthrows, which he attributed to a lack of attitude from his players. He stressed the importance of being proactive as fielders and maintaining focus on the ball.
Pakistan is set to face South Africa in their upcoming match, which is essentially a make-or-break game for them. Babar acknowledged the need for a new approach in the remaining matches, emphasising the importance of a positive mindset within the team.
"Whenever you do fielding, it is only with attitude. And I don't see any attitude from the team. You need to put in extra effort and be fit," Babar said at the post-match press conference. "You should focus on the ball, not on other thoughts, and when the ball comes, as a fielder, you have to be proactive. So, I think we are lagging a little bit as a fielding unit."
Also read: Afghanistan's Ibrahim Zadran shames Pakistan, dedicates Player of the Match award to refugees Pak turned back
Pakistan is scheduled to face South Africa this Friday, a match that carries significant importance as it could determine their fate in the tournament. Babar Azam, the team's captain, stressed the necessity of adopting a fresh strategy for the remaining matches.
"We will have to go with a different plan, a different mindset, we will try to bring a positive vibe in the team," said the Pakistani captain. "I hope we learn from this loss (against Afghanistan). It will hurt us a lot. We will try to talk about positive things. But, we will also talk about the things we did not do well. How we will do it in the future. Because every match is with a different team."
Babar conceded that his team has displayed inconsistency in various aspects of the game. "Sometimes, we do well in bowling, (but) we don't do well in batting. When we do well in batting, we don't do it in fielding."
While Pakistan's pace bowling attack is renowned as one of the world's finest, it has fallen short of expectations in this tournament, frequently conceding runs. Babar acknowledged that the team has felt the absence of pacer Naseem Shah significantly.
"We are missing Naseem a lot. But apart from that, our bowling lineup is one of the best. But, I think we are not able to click."
Babar Azam emphasised that his team has a nothing-to-lose attitude, and they are committed to giving their all in the remaining matches.
When asked about a potential dip in confidence after losing to arch-rivals India in their third match, Azam responded, "No, I don't think so. It's not like that. We have seen in Australia's match, we had scored almost three hundred. In bowling, we started badly, but we finished up well. But I don't think we have anything to lose. Every team is a new match, and we try to give our best."
Last Updated Oct 24, 2023, 10:51 AM IST