Sachin Tendulkar wants ICC to relook at rules, pitches used for ODIs
Sachin Tendulkar wants ICC to change ODI rules and the pitches used. Along with Tendulkar, Harbhajan Singh too called for a balance between bat and ball which they felt is missing at the moment with the format loaded in favour of the batsmen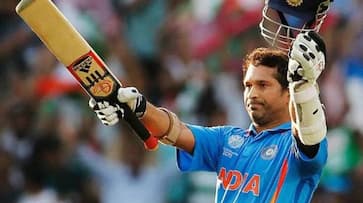 Bengaluru: Batting legend and former India captain Sachin Tendulkar on Wednesday (May 13) called for a relook at the current rules for ODIs and also the pitches used for the 50-over format.
Also read: Yuvraj Singh recalls Sachin Tendulkar's support during 2014 World T20 final
Tendulkar wrote on his Twitter page, while replying to veteran off-spinner Harbhajan Singh, "Couldn't agree with you more Bhajji! Even I feel the rules and surfaces both need to be looked into."
Also read: AB de Villiers reveals toughest Indian bowlers he faced
Earlier, Harbhajan had commented, "At least few more thousands runs  easily..such a bad rule this is..need few bowlers in @ICC to keep th balance right bitween bat and ball.. and games become more competitive when team scores 260/270 now days everyone scorning 320/30 plus and getting chased as well often (sic)."
This post by Harbhajan on his Twitter account was in response to Tendulkar asking former captain Sourav Ganguly about how many runs the opening batting duo would have scored more with the current rules of using two new balls and only four fielders outside the 30-yard circle.
"This brings back wonderful memories Dadi. How many more do you think we would've been able to score with the restriction of 4 fielders outside the ring and 2 new balls? @SGanguly99 @ICC (sic)," Tendulkar wrote while responding to ICC's post which read, "Sachin Tendulkar+Sourav Ganguly in ODIs: Partnerships: 176 Runs: 8,227 Average: 47.55 No other pair has crossed even 6,000 runs together in ODIs (sic)."
To Tendulkar's post, Ganguly had commented, "Another 4000 or so ..2 new balls..wow .. sounds like a cover drive flying to the boundary in the first over of the game.. for the remaining 50 overs ..@ICC @sachin_rt (sic)."
In 2018, Tendulkar had opposed the use of two new balls for ODIs. He had tweeted, "Having 2 new balls in one day cricket is a perfect recipe for disaster as each ball is not given the time to get old enough to reverse. We haven't seen reverse swing, an integral part of the death overs, for a long time (sic)."
Last Updated May 13, 2020, 1:50 PM IST