Sachin Tendulkar's search for Taj Coromandel staffer ends; excited Guruprasad wants to meet Sachin, Kohli, Dhoni, Ishant
Thanks to the power of internet, Sachin Tendulkar has found the man who helped him with his arm guard. Tendulkar had received suggestion about changing his elbow guard in 2001 and that man at Taj Coromandel has been found after the batting legend tweeted. The man, Guruprasad Subramanian is excited to meet Tendulkar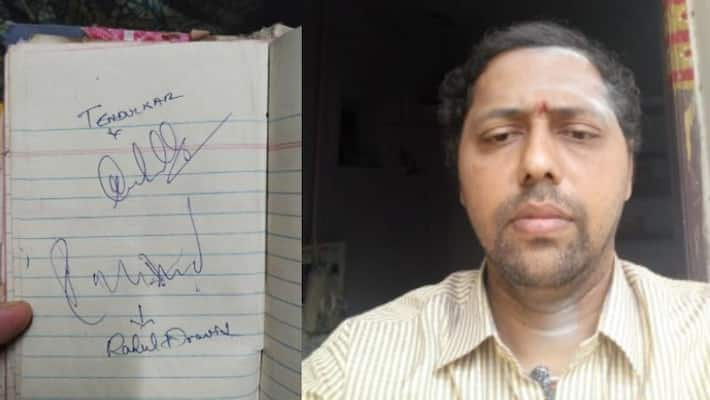 Bengaluru: The man, who suggested batting legend Sachin Tendulkar to change his arm guard, has been found, thanks to the help of netizens. He is excited to meet Tendulkar in person, for the first time since that memorable day at Taj Coromandel in Chennai.
On Saturday (December 14), Tendulkar had posted on his Twitter account about how a hotel waiter had given a suggestion to change his elbow guard that had been hindering his movements while batting. He had sought the help of netizens to find the man from Chennai. And now the power of internet has worked.
Also read: Sachin Tendulkar seeks netizens' help
Guruprasad Subramanian is the man who gave that suggestion to Tendulkar in 2001 during the India-Australia Test series in Chennai. Guruprasad, who is not married, still lives in Chennai, with his brother's family.
When Asianet Newsable contacted Guruprasad, he was excited about the news that Tendulkar had recalled that incident. He did not want to stop talking about that day.
"I remember that day. Many people call it an 'advice' but sorry it is not an advice, it was only a suggestion. Sachin Tendulkar sir is a great man, I can only suggest, can't advice him. I was working as a security guard at Taj Coromandel hotel in Chennai. I was in-charge of one of the hotel floors. When Sachin sir came out of his room, near the lift I met him," Guruprasad told Newsable on Monday (December 16).
He continued, "I asked Sachin sir whether I could suggest him something about his batting. Knowing him as a humble person, I did not fear about going and talking to him. He readily agreed and I told him that his elbow guard was arresting his movements. I was not carrying any autograph book but had my 'beat book' in which I took Sachin's signature."
Two years after meeting Tendulkar, Guruprasad was devastated when he lost his parents on a single day in 2003.
"I lost my father and a few hours later, on the same day, my mother too passed away, in 2003. Now, I live with my brother's family," Guruprasad said.
The 45-year-old Guruprasad now lives in Perumbur in Chennai. At the time of meeting Tendulkar, he was 27 years of age. That was the only meeting with the legend.
"That was the only meeting with Sachin sir. I am excited now to meet him again. I am very grateful that he remembered and tweeted about the incident," Guruprasad said.
When asked how he came to know about Tendulkar's tweet, he said, "It was my nephew, who lives in France, who saw the tweet and retweeted it. Later, he called me and told about it. Since then I have been getting a lot of calls from media persons."
Guruprasad, who himself was a cricketer during his younger days, now follows Virat Kohli, Mahendra Singh Dhoni and Ishant Sharma.
"My passion for cricket still continues. I now follow Virat Kohli, MS Dhoni and Ishant Sharma. I want to meet them too. I like Ishant because I too was a fast bowler when I played cricket," he signed off, hoping for a call from Tendulkar.
Last Updated Dec 16, 2019, 1:11 PM IST