Sachin Tendulkar takes blessings from his mother; gets 'priceless' birthday gift (Photos)
Sachin Tendulkar got a 'priceless' gift from his mother Rajni Tendulkar on the occasion of his 47th birthday today (April 24)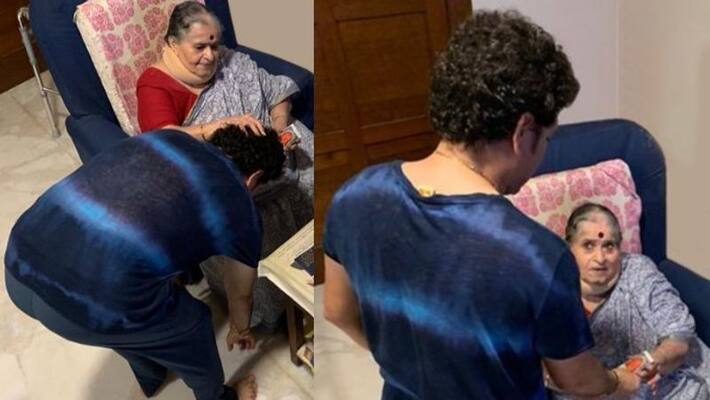 Mumbai: Batting legend Sachin Tendulkar, who turned 47 today (April 24), revealed what gift he got from his mother on his special day.
Also read: Exclusive - Venkatesh Prasad on best memories with Sachin Tendulkar
Since yesterday (April 23), fans have been flooding social media with birthday wishes for Tendulkar. However, this year, Tendulkar has announced that he will not celebrate his birthday as the world battles the coronavirus (COVID-19) pandemic.
Also read: Exclusive - Sunil Joshi on best memories with Sachin Tendulkar
To contain the spread of the virus, India is under a lockdown until May 3. Tendulkar has been posting messages and videos urging everyone to stay indoors in the fight against the virus.
Tendulkar took to the micro-blogging website Twitter to reveal what gift his mother Rajni Tendulkar gave him today.
Photos: Celebrating Sachin Tendulkar's birthdy with 47 memorable pictures
"Started my day by taking blessings from my Mother. Sharing a photo of Ganpati Bappa that she gifted me. Absolutely priceless (sic)," Tendulkar wrote with two pictures on his Twitter page.
Tendulkar's mother watched him play for the first time only in his 200th and last Test at the Wankhede Stadium in Mumbai in November 2013. Tendulkar retired seven years ago after playing international cricket for 24 years.
Even after retirement, Tendulkar's popularity has not come down. Whenever fans see him at stadiums, chants of "Sachin, Sachin" are heard. In one of the interviews, Tendulkar had said his mother was the first to start "Sachin, Sachin" chants.
"Do you know who started 'Sachin...Sachin'? My mother. When I was five or so and I was playing downstairs with my friends in front of our building, after 7.30 or so when mother wanted me home and I did not want to leave the playground. That's when she used to stand in the balcony and go like… Sachin...Sachin..you need to come now," Tendulkar had told India Today news channel.
In the same interview, Tendulkar had spoken how he felt to play in front of his mother in his final Test.
"Oh, I think I am speechless when it comes to explaining that. I don't know how to express myself. My mother hadn't seen me at all. I said 'you need to come to the stadium at least once, to see why I used to leave home for so many years. You've seen me on television that's fine but you need to see me live in action at least once. No one can guarantee how many runs I'm gonna make but just at least I could tell everyone that my mother has watched me play'.
"She agreed, of course, she has some challenges; she is not so mobile but we were able to get her there and then West Indies started batting and she was about to go back but another friend of mine Avinash said that you should stay here, you never know Sachin might be batting at the end of the day's play. And I did," he had said.
Last Updated Apr 24, 2020, 3:46 PM IST