RIP Bishan Singh Bedi: 'Will be remembered forever' - Indian cricketers pay tribute to legendary spinner
Indian cricketers, former and current, took to X to pay tribute to legendary left-arm spinner Bishan Singh Bedi, who passed away on Monday at the age of 77.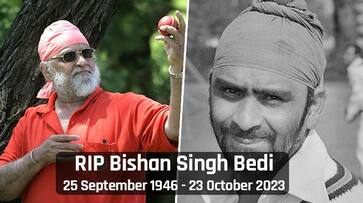 Former India captain and renowned left-arm spinner Bishan Singh Bedi passed away on Monday following an extended illness. At the age of 77, he left behind his wife Anju, son Angad, and daughter Neha. Bishan Singh Bedi, hailing from Amritsar and born in 1946, enjoyed a distinguished cricketing career. He represented India in 67 Test matches, where he took an impressive 266 wickets, including 14 instances of claiming five wickets in an innings and one remarkable 10-wicket haul.
Bedi was a vital component of Indian cricket's celebrated quartet of spin bowlers, alongside Erapalli Prasanna, Bhagwat Chandrasekhar, and Srinivas Venkataraghavan. This quartet formed the core of India's bowling unit for over a decade, from 1966 to 1978.
Also read: RIP Bishan Singh Bedi: India mourns the demise of cricket legend at the age of 77
In addition to his on-field contributions, Bedi briefly assumed the role of manager for the Indian cricket team during their tours of New Zealand and England in 1990. He also served as a national selector, providing his guidance and mentorship to promising spin bowlers like Maninder Singh and Murali Kartik, who held his technical insights in high regard. Bedi's impact on Indian cricket extended beyond his playing days, leaving an indelible legacy in the sport.
Following the news of his demise, BCCI took to X saying, "The BCCI mourns the sad demise of former India Test Captain and legendary spinner, Bishan Singh Bedi. Our thoughts and prayers are with his family and fans in these tough times. May his soul rest in peace."
Meanwhile, a host of former and current Indian cricketers too took to the social media platform to express their deep shock on the passing away of the legendary spinner. Here's a look at how they reacted:
Last Updated Oct 23, 2023, 6:06 PM IST