Ranatunga appointed as interim chairman after SL sacks entire board following ODI World Cup 2023 debacle
Sri Lanka's sports minister Roshan Ranasinghe on Monday sacked the national cricket board, days after a humiliating defeat by India at the ODI World Cup 2023. The country's 1996 World Cup-winning skipper Arjuna Ranatunga has been appointed chairman of a new interim board.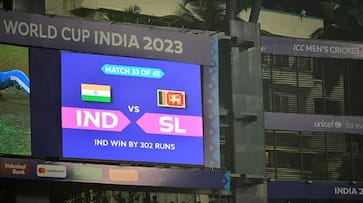 In the aftermath of Sri Lanka's humiliating defeat against India in the ongoing ODI World Cup 2023, the government took action by dismissing the Sri Lanka cricket board on Monday. The heavy 302-run loss prompted public outrage and calls for the resignation of the Shammi Silva-led SLC. Following the defeat, there were numerous demonstrations held outside the SLC premises, demanding the immediate resignation of the Silva administration. Riot police were deployed to safeguard the building amid the escalating situation.
Also read: India vs SA: Not Virat Kohli or Ravindra Jadeja, buggy camera reveals Rohit Sharma as 'Best Fielder' (WATCH)
Sports Minister Roshan Ranasinghe appointed an interim seven-member committee, headed by former World Cup-winning captain Arjuna Ranatunga, in response to the outcry. The Ministry of Sports released a statement noting that this committee was established under the authority of Sports Law No. 25 of 1973.
The appointed committee consists of three retired judges, two of whom are female, and also includes former SLC chair Upali Dharmadasa. This move marked the reemergence of Ranatunga, who previously led a similar interim committee in 2008, once again taking charge of Sri Lankan cricket affairs.
Ranatunga, leading the National Sports Council appointed by Ranasinghe, has been openly challenging the Silva administration. Shammi Silva was elected as the SLC chief in May for his third consecutive term, set to extend until 2025.
Also read: India vs South Africa: Over 55,000 fans sing Vande Mataram, light show illuminates Eden Gardens (WATCH)
Last Updated Nov 6, 2023, 11:07 AM IST