India vs SA: Not Virat Kohli or Ravindra Jadeja, buggy camera reveals Rohit Sharma as 'Best Fielder' (WATCH)
The article describes India's remarkable victory over South Africa at the ODI World Cup 2023, highlighting Rohit Sharma's 'Fielder of the Match' award and its impact on fielding standards in the tournament.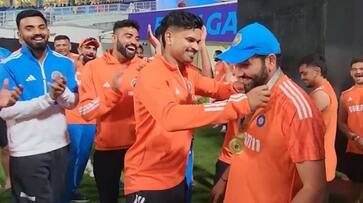 India secured a stunning victory against South Africa at the ODI World Cup 2023, triumphing by an impressive margin of 243 runs at the iconic Eden Gardens in Kolkata on Sunday. A day that marked iconic Indian batter Virat Kohli equal Sachin Tendulkar's record of 49 ODI centuries on his 35th birthday and Ravindra Jadeja clinching yet another 5-wicket haul, showcased India's dominance on the cricket field. A standout moment amidst various highlights was Rohit Sharma receiving the 'Fielder of the Match' award.
Also read: India vs South Africa: Over 55,000 fans sing Vande Mataram, light show illuminates Eden Gardens (WATCH)
Renowned for his exceptional batting skills and leadership, Rohit Sharma added another achievement to his repertoire by clinching this prestigious accolade. The honour was presented by Shreyas Iyer, who played a crucial role by scoring a match-winning fifty against South Africa, after a buggy camera revealed the winner was the Indian skipper. The occasion was marked by camaraderie and sportsmanship, with Sharma's teammates, particularly Shubman Gill, celebrating the moment with heartfelt embraces.
The 'Fielder of the Match' medal is an innovation introduced by India's fielding coach, T Dilip, intended to acknowledge and motivate outstanding fielding performances. This inventive approach not only amplified the excitement surrounding the medal presentation but also significantly enhanced the overall fielding standards of the Indian team throughout the tournament.
Rohit Sharma's win underscored his agility and precision on the field. His contribution played a pivotal role in India's resounding victory over South Africa, resulting in what marked South Africa's most significant defeat in World Cup history.
Also read: Virat Kohli equals Sachin Tendulkar: Over 4.3 crore fans witness King's 49th ODI ton on 35th birthday (WATCH)
Upon receiving the 'Best Fielder' award, Sharma expressed his appreciation for T Dilip, recognizing the fielding coach's role in inspiring the team to elevate their fielding performance. This recognition stands as a notable milestone in Sharma's illustrious career, further solidifying his reputation as a versatile cricketer.
As the ODI World Cup 2023 unfolds, cricket fans and enthusiasts worldwide eagerly anticipate more stellar performances from Team India. With players of Rohit Sharma's caliber setting high standards on the field, the future of Indian cricket appears promising.
Last Updated Nov 6, 2023, 10:55 AM IST