Pervez Musharraf passes away: When former Pak president asked Dhoni not to get a haircut - WATCH
Former Pakistan president Pervez Musharraf, who passed away on Sunday, always enjoyed India-Pakistan cricket rivalry and once suggested former Indian cricket captain M S Dhoni not to trim his flowing mane.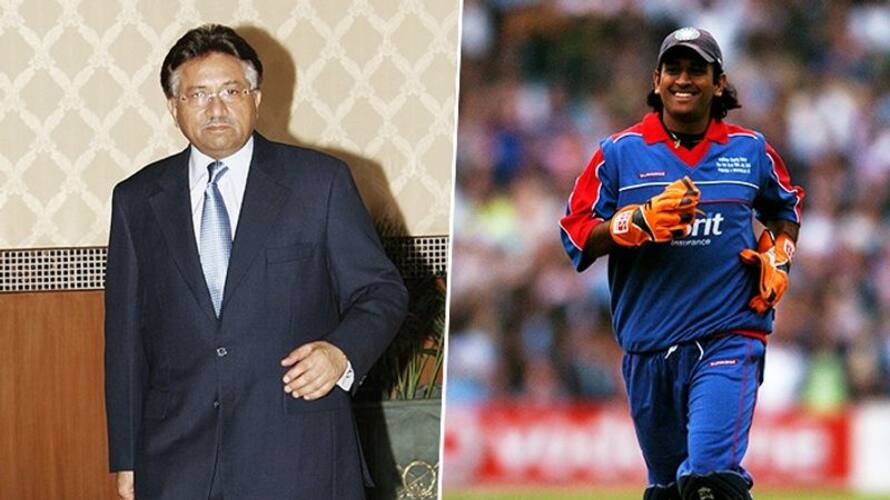 Pervez Musharraf, a former president of Pakistan who passed away on Sunday, always loved the cricket rivalry between Pakistan and India. He once advised former Indian cricket captain MS Dhoni not to cut his long hair.
The last time India played a bilateral series in Pakistan was in 2006. Dhoni's hairdo was commended by Musharraf, the then-president of Pakistan, at a presentation ceremony following a one-day game in Lahore.
Musharraf congratulated the Indian cricket team on winning the match and said they played "exceptionally well". 
"May I congratulate Dhoni on being the architect of the victory. May I tell Dhoni, I saw a placard asking you to get a haircut. If you want to take my opinion, you look good in this haircut. Don't get a haircut," he said. 
The match saw Dhoni smash an unbeaten 72 runs off just 46 deliveries. He was awarded 'Player of the Match'. 
India-Pakistan rivalry on the cricket ground has resulted in various fond memories for cricket fans in both countries, Musharraf's remarks being one of them. 
Musharraf, 79, died after a prolonged illness at a hospital in Dubai. According to his family, he was suffering from amyloidosis, a rare disease caused by a build-up of an abnormal protein called amyloid in organs and tissues throughout the body.
Also read: Pervez Musharraf passes away: Former Pak President was suffering from amyloidosis; Know all about it
In a statement issued immediately after Musharraf's death, the Inter-Services Public Relations (ISPR), the media wing of the Pakistan military, said that Chairman Joint Chiefs of Staff Committee General Sahir Shamshad and all the services chiefs expressed their heartfelt condolences.
"May Allah bless the departed soul and give strength to the bereaved family, it said.
Geo TV reported that a special flight will be sent to Dubai on Monday to bring Musharraf's body back to Pakistan for burial.
His illness came to light in 2018 when his party - the All Pakistan Muslim League (APML) - announced that the former military ruler was suffering from amyloidosis. In June last, he was hospitalised in Dubai for three weeks. Going through a difficult stage where recovery is impossible and organs malfunctioning. Pray for ease in his daily living, his family said at the time in a statement after the news of his demise had started circulating on social media.
Musharraf was the main architect of the Kargil War that took place months after then Prime Minister Nawaz Sharif signed a historic peace accord with his Indian counterpart Atal Bihari Vajpayee in Lahore. After his failed misadventure in Kargil, Musharraf deposed the then Prime Minister Sharif in a bloodless coup in 1999 and ruled Pakistan from 1999 to 2008 in various positions - first as the chief executive of Pakistan and later as the President.
(With inputs from PTI)
Last Updated Feb 5, 2023, 3:17 PM IST