ODI World Cup 2023: Will UK PM Rishi Sunak attend India vs England clash in Lucknow?
UK PM Rishi Sunak could make his way to attend the India vs England ODI World Cup 2023 match in Lucknow on October 29. He is likely to visit India in the last week of October to sign the India-UK FTA agreement.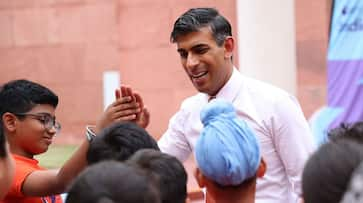 The ODI World Cup 2023 fever is not only prevalent in India but also in the rest of the world. According to various reports, UK Prime Minister Rishi Sunak is likely to mark a state visit to India in the last week of October. He is also looking to attend the India vs England match in Lucknow on October 29.
However, no confirmation has been shared yet by the Westminster's Office in London over the state visit. The main purpose of the visit is said to be the finalization and signing of the India-UK Free Trade Agreement. UK PM Rishi Sunak and Indian PM Narendra Modi talked about a possible state visit on the sidelines of the recent G20 summit.
Also Read: Rishi Sunak engaged in conversations with England's football stars Harry Kane and Marcus Rashford
The Free Trade Agreement is almost complete as only minute disagreements are left to be resolved. This involves a disagreement between both parties over Visas and tariffs on certain items. While 24 out of 26 chapters of the Free Trade Agreement have been finalized.
This is a huge victory, especially for Rishi Sunak and his party leaders who have worked effortlessly to get this done. Former British PM Boris Johnson set multiple deadlines for the conclusion of the deal with India but consensus on both sides could not be achieved on various issues in his tenure. 
UK PM Rishi Sunak is known to get things done as he likes to go the extra mile if need be. He could strike the Cricket diplomacy with India by also attending the India vs England match on October 29. Rishi Sunak is a huge cricket fan and he could be in attendance at the Bharat Ratna Shri Atal Bihari Vajpayee Ekana Cricket Stadium.
Last Updated Oct 11, 2023, 5:44 PM IST