Rishi Sunak engaged in conversations with England's football stars Harry Kane and Marcus Rashford
Rishi Sunak shares a moment of triumph alongside England football icons Harry Kane and Marcus Rashford as they mark the successful bid to host Euro 2028 in the UK and Ireland.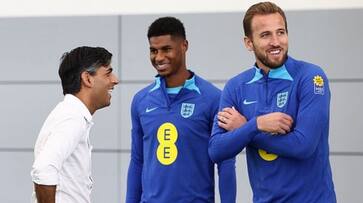 Rishi Sunak engages in conversations with England's football stars Harry Kane and Marcus Rashford as he celebrated the victory in securing the hosting rights for Euro 2028. The Prime Minister was photographed alongside manager Gareth Southgate, as well as the talented strikers Kane and Rashford, expressing his excitement for the upcoming tournament to be held in the UK and Ireland.
During his visit to the St George's Park training ground in East Staffordshire, Mr. Sunak not only anticipated a significant economic boost but also emphasized the unifying power of the event, which is expected to inspire the next generation of football enthusiasts.
Reflecting on his own fond memories of the Euro 1996 tournament, Mr. Sunak spoke to reporters, saying, "I grew up with Euro 96 being one of the most amazing memories of my childhood. And we have a chance to do that all over again for lots more people, just like we did last year with the lionesses."
He continued, "We host tournaments better than anyone else. It's going to be a massive boost for the economy. We're going to welcome millions of people to the country, and it's going to inspire a whole new generation."
When questioned about the economic benefits outweighing the costs, he expressed confidence, citing the existing infrastructure of stadiums and the track record of previous tournaments in boosting the country's economy and fostering a sense of unity.
Culture Secretary Lucy Frazer added that the tournament is expected to bring about £2.6 billion in socio-economic benefits across the host nations, creating jobs and opportunities.
Scottish First Minister Humza Yousaf also highlighted the positive impact, emphasizing the opportunities it would provide and the legacy program's role in promoting inclusivity and diversity in the sport.
In summary, the successful bid to host Euro 2028 was met with excitement and optimism, with an emphasis on its potential economic benefits and its capacity to unite and inspire.
Also Read: Eden Hazard retires: 7 iconic quotes from Beligan football legend
Also Read: Premier League 2023: Martinelli's late goal seals Arsenal's thrilling win over Manchester City
Last Updated Oct 10, 2023, 10:35 PM IST