ODI World Cup 2023: Virat Kohli takes a spectacular catch at the slips, Jasprit Bumrah shows aggression
Virat Kohli put up an excellent effort in the slips to mark the dismissal of Mitchell Marsh for a duck. Even Jasprit Bumrah couldn't control his aggression after taking India's first wicket in this ODI World Cup 2023.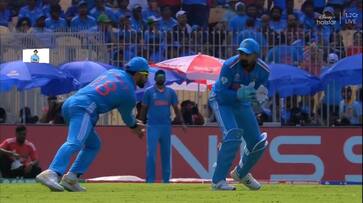 Virat Kohli started the ODI World Cup 2023 campaign for India by taking a spectacular catch to dismiss Mitchell Marsh. The Indian star dived on his left side which is not his natural side to complete the breakthrough catch. 
Jasprit Bumrah was excited as well to take up the first wicket for India in the ODI World Cup 2023. In one of the rarest times, the Indian fast bowler showed aggression after dismissing Mitchell Marsh for a six-ball duck. While Virat Kohli rolled on the ground twice after completing the catch. 
Also Read: South Australia's Jake Fraser-McGurk scores fastest century in 50 over format, breaks Ab de Villiers' record
Virat Kohli has been one of the best fielders for India as fitness has been his pillar aiding his cricketing career. He is considered one of the safest pair of hands after Sir Ravindra Jadeja in the Indian side. Fans on X (formerly Twitter) have expressed their side toward the astonishing effort from Virat Kohli.
The Indian cricket team got themselves into a fine start with the wicket of Mitchell Marsh. The Australian all-rounder never looked confident through his body language in the six balls that he played. However, the post-Mitchell Marsh wicket partnership between Steve Smith and David Warner was significant.
Australia did not crumble under the pressure after such an early dismissal. However, after the offset of their top order, the Aussies fell like a pack of cards resulting in a significantly lower score. Ravindra Jadeja picked up the key wickets.
Last Updated Oct 8, 2023, 7:08 PM IST