ODI World Cup 2023 trophy makes pit stop at Statue of Unity ahead of opening clash in Ahmedabad; see pics
The ICC men's cricket World Cup 2023 trophy visits Gujarat's iconic Statue of Unity before the tournament's opening match in Ahmedabad, with preparations including extended metro train services and simplified ticket purchase.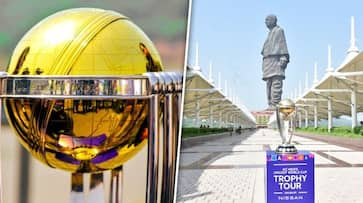 The ICC men's cricket World Cup 2023 trophy, a prestigious symbol of the sport, made a notable stop at the Statue of Unity, the world's tallest statue, located in Gujarat's Narmada district. This visit preceded the opening match of the World Cup scheduled to be held in Ahmedabad on October 5 between England and New Zealand. The grand opening match of the ODI World Cup 2023 will take place at the Narendra Modi Stadium in Ahmedabad, which will also host the final on November 19.
Also read: Who will win ODI World Cup 2023? Astrologer who predicted previous 3 WC winners gives ultimate response
As part of its global tour, which included a groundbreaking journey to space, the World Cup trophy paused at the iconic Statue of Unity in Ekta Nagar, according to a release from the Statue of Unity Authority. This event highlights the cricket's universal appeal and its capacity to unite people across the globe.
With cricket enthusiasts beginning to arrive in Ahmedabad for the tournament, officials have decided to extend the city metro train services by three hours, and ticket purchase for the return journey has been simplified for five days.
Metro timings extended on match days in Ahmedabad
The Narendra Modi Stadium is set to host the opening match of the World Cup, featuring the finalists from the previous edition, England and New Zealand, on October 5. This stadium will also serve as the venue for matches on October 14, November 4, and November 10, culminating with the World Cup final scheduled for November 19.
Currently, the metro train services in Ahmedabad operate between 6:20 AM and 10:00 PM, with a frequency of 12 minutes throughout the day, according to a release by the Gujarat Metro Rail Corporation (GMRC).
In light of the upcoming World Cup cricket matches, metro trains will run from 6:20 AM until 1:00 AM on the five days when matches are scheduled.
To alleviate the rush for return journey tickets from the Motera Stadium metro station, GMRC has introduced the option of paper tickets, which can be purchased at any time during the day for the return journey. The cost for this ticket is Rs 50 per person for travel to any station after 10 PM on match days.
On the days when matches are played, entry gates at all metro stations, except Motera and Sabarmati, will close at 10 PM, leaving only the exit gates operational.
The entry gates at Motera and Sabarmati metro stations will remain open until the last train departs from Motera at 1:00 AM.
Last Updated Oct 3, 2023, 6:32 PM IST