Who will win ODI World Cup 2023? Astrologer who predicted previous 3 WC winners gives ultimate response WATCH
Scientific Astrologer Greenstone Lobo, who correctly predicted the winners of the previous three World Cups, reveals which teams are a formidable force for this year's grand event and also reveals his prediction for winner of ODI World Cup 2023.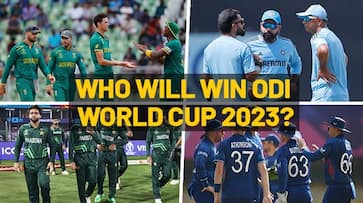 The warm-up matches for the ICC Cricket World Cup 2023 are underway, building excitement among fans just two days before the opening match between defending champions England and 2019 runners-up New Zealand on October 5. The tournament, featuring 47 matches, involves the top 10 teams vying for the coveted World Cup Trophy, with the final scheduled for November 19 at the Narendra Modi Stadium in Ahmedabad. Notably, scientific astrologer Greenstone Lobo, who accurately predicted the winners of the previous three ODI World Cups, shares insights into how he approaches these predictions. He provides an intriguing perspective on the use of astrology in cricket and reveals his prediction for the winner of the ODI World Cup 2023.
According to scientific astrologer Greenstone Lobo, the upcoming Cricket World Cup 2023 holds intriguing astrological insights that may influence the outcome of the tournament. In a video posted on his YouTube channel, Lobo offers a unique perspective on the astrological factors that could shape the tournament's destiny.
One fascinating observation Lobo highlights is the correlation between a captain's birth year and World Cup success. "Last time a 1986 born captain won the World Cup i.e. Eoin Morgan. This time there is no other 1987 born captain in the cricketing world. There's only one and that is India's Rohit Sharma. Teams who can give tough fight," said Lobo.
Lobo proceeds to assess the chances of various teams in the ODI World Cup 2023 based on the birth years of their captains. Here are some of his insights:
Australia: Captain Pat Cummins, born in 1993, lacks the astrological elements needed to secure a World Cup win. Lobo suggests that Australia's chances of winning are low. "I can rule out saying that Australia has no chances to win the World Cup 2023. Cummins has 2-3 players who have been part of World Cup-winning teams. There are so many players are not falling into the bracket where the World Cup winners fall. I am eliminating Australia from winning the World Cup," Lobo said.
England: Jos Buttler, born in 1990, has one of the best horoscopes among cricket players worldwide, according to Lobo. He believes that Buttler has the potential to lead England to victory, making them a significant threat in the tournament. "There's no question that Jos Buttler has one of the best horoscopes among all players in the world. He is the best captain. He belongs to the next batch. After 1986, 1987 the biggest batch is 1990. He has it in him to win a World Cup. He is a big threat. They have Mathew Mott as their coach, who also has a very good horoscope. England is a very big threat. Beware of this team. They also have one man who gives tremors to his opponents i.e. Ben Stokes," Lobo added.
New Zealand: Lobo predicts that New Zealand, despite being finalists in the previous World Cup, may not win this time due to several players born in 1992, which is considered less favourable astrologically.
Pakistan: While Lobo acknowledges the unpredictability of Pakistan player's birthdates, he highlights the strong horoscope of their coach, Grand Bradburn. Pakistan could be a formidable contender for winning the World Cup. "Pakistan's coach Grand Bradburn has a good horoscope. 1966-born coach and has a phenomenal horoscope. With Pakistan, its hard to predict because not all their birthdates are original. They can be fudged. But they are a very strong team and coach is extremely powerful. I feel Babar could be born in 1992 or 1990 - officially it is 1994. There is a possibility that Pakistan can win the World Cup," Lobo noted.
South Africa: With a 1990-born captain, Temba Bavuma, South Africa is regarded as a strong team in Lobo's assessment, making them a serious competitor. "This is a good team and Temba Bavuma is a 1990 born. Its a phenomenal team with very good players. Rob Walter doesn't have a great chart. Cannot eliminate South Africa," Lobo said.
India: Based on his astrological analysis, Lobo emphasizes that India, led by Rohit Sharma, stands out as a top contender to win the Cricket World Cup 2023. "South Africa, Pakistan, England are competitors and I won't be surprised if they win the World Cup. But the team with highest possibility is India. This is not a patriotic statement. This is completely and thoroughly astrology based," Lobo stated. He further added, "Rohit Sharma has not done justice to his chart. His Karmic Quota is still intact. Rohit Sharma has won 5 titles for Mumbai Indians. He has also won the Asia Cup. If you look at it, this story is almost similar to Lionel Messi. The Argentine is also 1987 born. People used to criticise him saying that he has won a lot for his club, but never for his country. What he did - he went on to win Copa America and then the World Cup in 2022. The story is falling in the same pattern. Rohit Sharma won the Asia Cup and now he can go on to win the World Cup."
Lobo also mentions the influence of coach Rahul Dravid's horoscope, indicating that he could guide the team to victory. "Importantly, we also have a fabulous coach. Rahul Dravid was a good captain and great player, but he didn't achieve anything extraordinary. He has won U-19 World Cup as a coach. His horoscope indicates that he can win something even more bigger and what can be bigger than being the coach of a World Cup winning team. Sourav Ganguly or Sachin Tendulkar they all have got big glories and I would say somewhere the karmic quota of Rahul Dravid was missing and that's exactly what he can do it this time," he said.
In conclusion, Lobo's astrological insights suggest that India has the best chances of winning the ICC Cricket World Cup 2023, making them a formidable force to watch in the tournament. "Look at the set of players we have - From Rohit Sharma to Shubman Gill, Virat Kohli, Shreyas Iyer, KL Rahul, Jasprit Bumrah etc. We have a fabulous team. We will have a fantastic playing XI. Whatever team we have, the team is going to go and do the job. So India, let me reiterate, India, has got the best chances to win the 2023 World Cup," he concluded.
Last Updated Oct 3, 2023, 5:04 PM IST