ODI World Cup 2023: PM Modi wishes India luck for semifinals against NZ after win over Netherlands
K L Rahul's century and Shreyas Iyer's 128 lit up the Diwali day as India mowed down the Netherlands by 160 runs on Sunday, registering its ninth consecutive victory in the ODI World Cup 2023.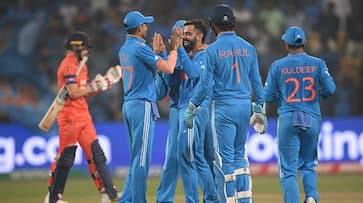 Prime Minister Narendra Modi extended congratulations to the Indian cricket team on Sunday for their victory against the Netherlands in their ODI World Cup 2023 match and conveyed best wishes to the players for the upcoming semifinals against New Zealand.
The Diwali day was illuminated by K L Rahul's century and Shreyas Iyer's impressive 128, leading India to a commanding 160-run triumph. This win marked India's ninth consecutive victory in the showpiece event and allowed them to finish the league engagements with 18 points.
Also read: ODI World Cup 2023: Rahul and Iyer set up a record-breaking victory against Netherlands
The team will now head to Mumbai for the high-stakes semifinal clash against New Zealand scheduled for Wednesday.
"Diwali becomes even more special thanks to our cricket team! Congratulations to Team India on their fantastic victory against the Netherlands! Such an impressive display of skill and teamwork," Modi said on X. 
"Best wishes for the Semis! India is elated," he added.
Coach Rahul Dravid on India vs NZ semifinals clash
India's head coach, Rahul Dravid, openly acknowledges the high-pressure nature of the ODI World Cup 2023 semifinal against New Zealand on Wednesday. Despite a near-flawless performance in the nine league games, Dravid emphasizes that there are no guarantees in such a crucial match.
"I would be in-authentic if I say that there will be no pressure of semi-final. You have no guarantees to win any game of cricket. What you can do is prepare the best you can and we've been doing that," Dravid told Star Sports after India's 160-run win over the Netherlands.
Also read: ODI World Cup 2023: India's Kuldeep Yadav says early wicket key to get on top of NZ in semifinals at Wankhede
The outcome now hinges on two crucial matches, and all the prior achievements could be nullified if India falls to a team that had previously caused them distress in 2019.
"When it's going well it looks good. One loss and everyone says you don't know anything," Dravid replied cheekily when told about how the broadcasters were analysing his performance in the league games.
Dravid expressed particular satisfaction with Shreyas Iyer's consistent performance in the latter stages of the tournament.
"Shreyas Iyer is the backbone of our middle order, and we all know how tough it has been for us to find a good No. 4 batter for the last 10 years," Dravid said. 
Last Updated Nov 13, 2023, 10:57 AM IST