ODI World Cup 2023: Moeen Ali feels lack of aggression behind disappointing start in mega event
England all-rounder Moeen Ali has reassured English fans that the defending champions will be trying their best to make a comeback. He only gave his point of view behind the poor start from them in the ODI World Cup 2023.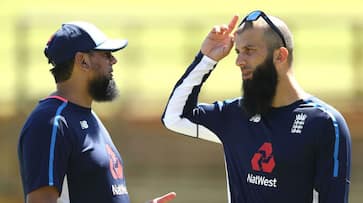 England all-rounder Moeen Ali has opened up on England's underperformance in the ODI World Cup 2023. The Jos Buttler-led team has let down many back home after managing just one victory in 4 games while losing three games. One was also an upset against Afghanistan which shattered the whole dressing room. 
The batters haven't contributed much especially in the chase. The ODI World Cup 2023 game against South Africa was an example of how the England batters failed to score runs in a big chase. Even the bowlers have lacked the flare that is required to win big tournaments.
Also Read: ODI World Cup 2023: Virat Kohli shares his success mantra after momentous start in the mega event
Moeen Ali feels that the lack of aggression from his side has caused such an unprecedented performance in this World Cup. The Jos Buttler-led team has been lazy and lethargic which has been visible from their batting performances so far.
The England all-rounder said, "The thing is bazball is in Test cricket. One day cricket's different and we've been playing differently all the time. We've been playing aggressive cricket throughout for the last since 2015 and done it quite well.
I think probably the lack of that way of cricket has probably cost us a little bit in this tournament we haven't been playing that way in my opinion and I think we need to play that way, but without slogging the ball, but just be that really aggressive side that we know we can be.
Moeen Ali also shared the need for quick regrouping and resetting for their chances in this ODI World Cup 2023. However, contrary to their hopes, their woes don't seem to end as England will be facing India on Sunday. Their next matches are similarly against difficult opposition.
Last Updated Oct 25, 2023, 5:57 PM IST