ODI World Cup 2023: Virat Kohli shares his success mantra after momentous start in the mega event
Virat Kohli has had a dream start to the ODI World Cup 2023 with one century and three half-centuries in 5 matches. The batter amidst a wave of appreciation and criticism shared his motto and success mantra behind a successful cricketing career.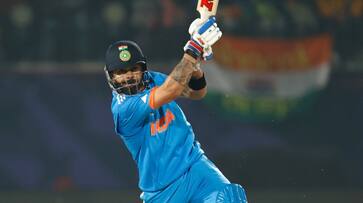 Indian star Virat Kohli has turned into an unstoppable force in the ODI World Cup 2023 after putting up consistent performances. Unlike other batters in the top scorers list, Virat Kohli has scored big in important moments and matches. His performances have also come at the time of chasing. 
Virat Kohli has scored 354 runs in 5 matches so far with an average of 118.00. The Indian top-order batsman has one century and three half-centuries already. He was on the cusp of another hundred against New Zealand in the previous game but he unfortunately couldn't finish off as he was dismissed for 95 runs.
Also Read: ODI World Cup 2023: England, Sri Lanka fight for survival as World Cup enters halfway mark
Amidst, strong performances from King Kohli, certain sections of fan bases have hit out at Virat for chasing excellence. For the last few matches, Virat Kohli has been playing carefully with a certain strategy to reach milestones. His hundred against Bangladesh came after strategic moving with KL Rahul. Similarly, Virat Kohli was close to hitting a century against New Zealand as Ravindra Jadeja was assisting him with giving back strike.
However, Virat Kohli has clarified that he is not behind excellence but behind betterment. The Indian star shared his success mantra for such a long cricketing career. He shared his motto and passion for cricket on Star Sports. 
Virat Kohli said, "I have always worked on how I can better myself every day, every practice session, every year, and every season. So, that is what has helped me play for this long and perform. I don't think it is possible to perform consistently without having that mindset, because if performance is your goal, then one can get satisfied after a while and stop working on their game.
It has always been my motto to chase betterment and not excellence because I honestly don't know what the definition of excellence is. There is no limit to it, nor there is a set standard that when you reach here you have achieved excellence."
Last Updated Oct 25, 2023, 5:39 PM IST