ODI World Cup 2023: Last dance for trio Rohit, Virat and Shami as India take on Australia in the final
Indian trio Virat Kohli, Rohit Sharma, and Mohammed Shami have been the backbone of India's pursuit in the ODI World Cup 2023. The final could be the last dance for the trio as it could be the last World Cup match for all three players.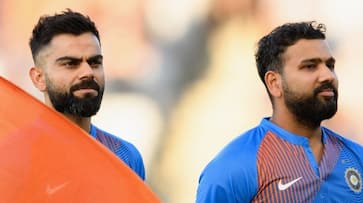 Rohit Sharma, Virat Kohli, and Mohammed Shami have been the undisputed pillars of the Indian cricket team in the ODI World Cup 2023. Their contribution is what has led the fire in the belly of the Indian team to do greater things in the tournament. The Indian team had indeed done greater things after putting through so much effort.
Rohit Sharma, Virat Kohli, and Mohammed Shami's career has been nothing short of hard. The trio struggled in the initial days of their career but kept going to reach where they are today. Rohit Sharma's family didn't have enough money to pay the tuition fees of Rohit's desired Vivekananda Public School. Rohit Sharma would have greatly benefited had he got the admission to that school.
Virat Kohli on the other hand had to go through various difficulties like nepotism and favouritism during his under-15 days. Some notorious DDCA officials created various roadblocks for Virat Kohli as he didn't have any godfathers. But Virat Kohli's talent couldn't be hidden for too long. In the long run, Virat Kohli enjoyed greater support from Arun Jaitley.
Mohammed Shami had a late start to his cricketing career and it was not smooth as well. Shami stayed in West Bengal's Sahaspur but to play cricket he had to travel to Kolkata and stay at the club mess. Mohammed Shami showcased his talent on flat and soulless pitches that broke him into the Indian cricket team. Such was his grit and determination to play for the Indian cricket team. 
Rohit Sharma before the final said, "I don't believe in auras and stuff. You have to land up and play good cricket. If you make mistakes tomorrow, all the good work of 10 games will be wasted. Past and future aren't things we fret about, and we have focused on the present.
What happened in 2003 is something I am not thinking about. I don't want to go back there. It was a very emotional period. I think I'm sure everyone knows about it. It was a very hard time."
Last Updated Nov 18, 2023, 9:13 PM IST