ODI World Cup 2023: Indian skipper Rohit Sharma hilariously mimics Shreyas Iyer after century (WATCH)
Indian captain Rohit Sharma set the mood light in the Indian dressing room with his sweet little yet hilarious gesture. The Indian opener went on to mimic the walking style of Shreyas Iyer post the century.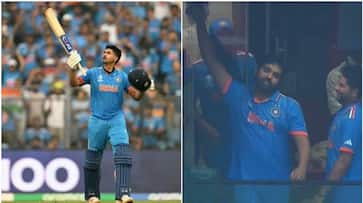 The mood in the Indian cricket team dressing room is high with joy and celebration after an escatic performance against the Kiwis in the first semi-final clash on Wednesday. India has had a poor record against New Zealand, especially in the knockout stages but on Wednesday, they overcame it. 
India's batting prowess won the ODI World Cup 2023 game. Bowling of both the sides looked pale and it was batting that made the difference between India and New Zealand at the Wankhede Stadium. Virat Kohli put up a stellar show to etch himself in the record books forever. He overcame his idol Sachin Tendulkar as the highest number of centuries scored in ODI cricket.
Also Read: ODI World Cup 2023: PM Narendra Modi likely to attend final at Ahmedabad, many Bollywood stars to turn up
Virat Kohli struck his 50th ODI ton in front of the Wankhede Crowd. This is a feat no cricketer in the history of the game has managed to achieve. Even Shreyas Over looked classy in his inning. The Indian batter enabled Virat Kohli to play his natural game. Shreyas Over kept attacking from one end thus soaking pressure away from Virat Kohli.
The Indian youngster was rewarded for his fruitful inning as Shreyas Iyer struck back-to-back centuries in the ODI World Cup 2023. This was a special knock even for the individual as it came in front of his home crowd and at his home ground. Indian skipper Rohit Sharma also hilariously mimicked the Indian Number. 4 post the century.
Rohit Sharma did the stylish walking pattern of Shreyas Iyer which the player does after completing an achievement. Shubman Gill was also behind Rohit Sharma and he couldn't control his laughter at the sight of Rohit Sharma. 
Last Updated Nov 16, 2023, 8:18 PM IST