ODI World Cup 2023, AUS vs SA: Marnus or Marcus - Ponting reveals his choice ahead of semifinal clash
Former Australian captain Ricky Ponting advocates for the inclusion of Marnus Labuschagne over Marcus Stoinis in the playing eleven for Australia's World Cup semifinal against South Africa.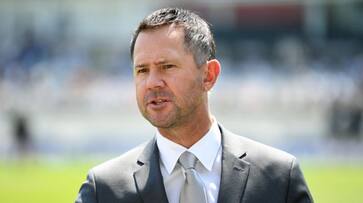 As Australia gears up for the World Cup semifinal against South Africa, former captain Ricky Ponting voices his preference for Marnus Labuschagne over all-rounder Marcus Stoinis in the playing eleven. Ponting, analyzing Labuschagne's batting proficiency in the middle overs, believes the cricketer's inclusion will bolster Australia's chances in the crucial match at Eden Gardens on Thursday.
With Glenn Maxwell returning to the side after sitting out the final league game against Bangladesh, the decision lies between Labuschagne and Stoinis for the semifinal clash. Ponting suggests that Labuschagne, being the second-leading run-scorer in the series and displaying impressive form with two notable fifties, should retain his spot. In contrast, Stoinis, despite being part of the team, has had a lackluster campaign with both bat and ball in the World Cup.
Reflecting on Australia's struggles in the middle overs, Ponting emphasises the importance of rectifying their performance during overs 11 to 40, especially with Labuschagne's potential to make a positive impact in this crucial phase. He cites Labuschagne's noteworthy contributions against the Netherlands and Bangladesh, coupled with his remarkable fielding skills.
Ponting also reveals insider information, stating that Labuschagne would have been excluded from the playing eleven against Afghanistan if Steve Smith had been fit. However, with Smith unavailable due to vertigo issues, Labuschagne played a crucial role in the team's success.
Former Australia all-rounder Shane Watson echoes Ponting's sentiments, emphasising Labuschagne's role in balancing the batting order, particularly if the team faces challenging conditions under lights. Watson underscores Labuschagne's adeptness in handling a moving ball, making him a valuable asset in potential scenarios where Australia bats second.
As the anticipation builds for the World Cup semifinal, the debate over Labuschagne's inclusion adds an intriguing element to Australia's strategy as they seek to secure a spot in the tournament's final stages.
Also Read: ODI World Cup 2023: Virat Kohli claims first international wicket in 9 years
Last Updated Nov 13, 2023, 4:22 PM IST