Mitchell Starc: Cricket could become 'pretty boring' due to 'no saliva' rule
Australia fast bowler Mitchell Starc thinks banning the use of saliva to shine the ball is not good for the game. Recently, ICC's Cricket Committee recommended the prohibition of use of saliva due to the coronavirus (COVID-19) pandemic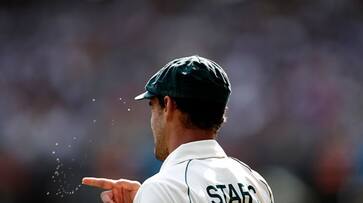 Melbourne: Cricket runs the risk of becoming "pretty boring" if balance is not struck between bat and ball in the wake of the coronavirus-linked ban on using saliva to shine the ball, Australia's premier pacer Mitchell Starc warned on Tuesday (May 26).
This will also discourage aspiring youngsters to take up fast bowling in future, he reckoned.
Also read: ICC's dos and don'ts to resume cricket
"We don't want to lose that or make it less even, so there needs to be something in place to keep that ball swinging," Starc told reporters during an online press conference.
"Otherwise people aren't going to be watching it and kids aren't going to want to be bowlers. In Australia in the last couple of years we've had some pretty flat wickets, and if that ball's going straight it's a pretty boring contest," he added.
Also read: ICC's committee recommends ban on use of saliva
The ICC cricket committee, led by former India captain Anil Kumble, recently pushed for a ban on the use of saliva to combat the coronavirus threat.
Starc feels bowlers should be allowed to shine the ball in other ways for the time being.
"It's an unusual time for the world and if they're going to remove saliva shining for a portion of time they need to think of something else for that portion of time as well," he said.
Last Updated May 26, 2020, 1:07 PM IST