Laureus World Sports Awards 2020: Sachin Tendulkar wins best sporting moment award in Berlin
The iconic image of Sachin Tendulkar being carried on the shoulders of his teammates after India won the 2011 World Cup was voted as the best sporting moment of the past two decades at Laureus World Sports Awards 2020. Tendulkar received the award from Steve Waugh in Berlin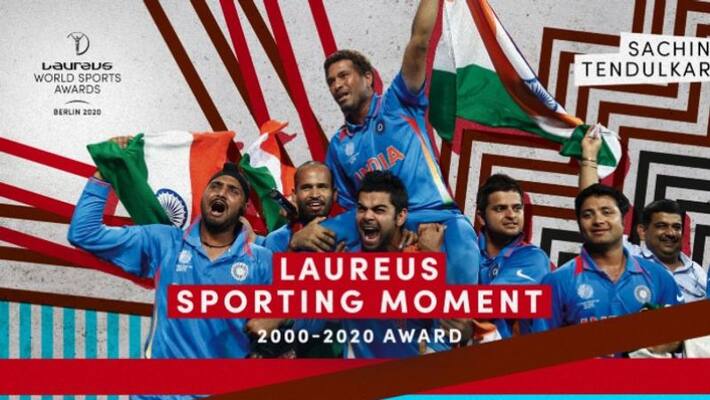 Berlin: Indian cricket legend Sachin Tendulkar won the Laureus Sporting Moment Award (2000-2020) at the Laureus World Sports Awards 2020 ceremony in German capital Berlin.
Photos from Laureus awards ceremony
On Monday night (February 17), Tendulkar received the honour from former Australian cricket captain Steve Waugh. The winner's name was announced by former German tennis great Boris Becker.
Also read: Sachin Tendulkar in Berlin for Laureus awards, shares pictures
The best moment award came for Tendulkar with him being carried on the shoulders of his teammates after winning the 2011 World Cup at Mumbai's Wankhede Stadium.
With the incredible backing of Indian cricket fans, who united in support of their hero, the Laureus Sporting Moment Award (2000-2020) public fan vote was won by Tendulkar.
Also read: Full schedule of IPL 2020
Voted for by sports fans around the world, the sward celebrated moments from the past two decades where sport has unified people in the most extraordinary way.
On his sixth attempt, Tendulkar led India to victory at the 2011 ICC World Cup. The victory could not have been more historic, as it was India's first World Cup win on home soil and their second ever triumph.
"It's incredible. The feeling of winning the world cup was beyond what words can express. How many times you get an event happening where there are no mixed opinions. Very rarely the entire country celebrates," Tendulkar said after receiving the honour.
The 46-year-old added, "And this is a reminder of how powerful a sport is and what magic it does to our lives. Even now when I watch that it has stayed with me."
When Becker asked Tendulkar about his emotions after winning the World Cup at home, the Mumbaikar said, "My journey started in 1983 when I was 10 years old. India had won the World Cup. I did not understand the significance and just because everybody was celebrating, I also joined the party."
"But somewhere I knew something special has happened to the country and I wanted to experience it one day and that's how my journey began. It was the proudest moment of my life, holding that trophy which I chased for 22 years but I never lost hope. I was merely lifting that trophy on behalf of my countrymen," Tendulkar, who played in a record 200 Tests and 463 ODIs, said.
Last Updated Feb 18, 2020, 12:48 PM IST