Laureus World Sports Awards 2020: Sachin Tendulkar lands in Berlin; fans want batting legend to win
Laureus World Sports Awards 2020 will be presented in Berlin today (February 17). Sachin Tendulkar is in the running to bag an award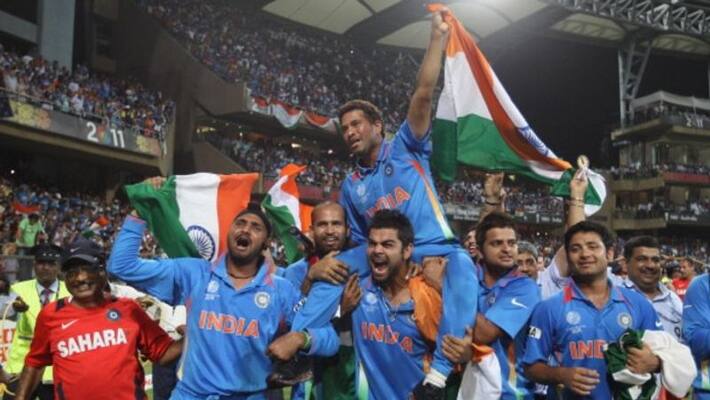 Berlin: Batting legend Sachin Tendulkar arrived in Berlin for the Laureus World Sports Awards 2020. Tendulkar is in the running for one of the awards which will be announced today (February 17).
Also read: Sachin Tendulkar shortlisted for award
Tendulkar took to the micro-blogging website Twitter to announce that he was happy to land in Germany. "Happy to be in Berlin for the @LaureusSport World Sports Awards 2020! #Laureus20 #SportsUnitesUs," the former India captain tweeted on Monday.
The 46-year-old Tendulkar features in the top five sporting moments of the last 20 years. His iconic image of being hoisted on the shoulders of his teammates after winning the ICC World Cup 2011 is among the nominees.
Under the title, "Carried on the Shoulders of a Nation", Laureus, in its nominations, wrote, "On his sixth attempt, legendary batsman Sachin Tendulkar and the India men's national cricket team finally achieved a glorious victory at the 2011 ICC World Cup. India's historic defeat of Sri Lanka by six wickets in the final was watched live by an estimated 135 million fans across India."
Indian fans are hoping that Tendulkar wins the award on Monday. There were many fans on social media who were praying for Tendulkar to get the honour.
Meanwhile, the 20th Laureus World Sports Awards, being held at the Verti Music Hall in Berlin on Monday, will be hosted by star of the big screen, actor, producer and avid sports fan, Hugh Grant.
This will be the second time the award-winning Grant will have hosted the Awards, having previously delivered a standout performance at the 2017 Laureus World Sports Awards, held in Monaco.
The 20th anniversary Laureus World Sports Awards will honour the greatest sporting triumphs of 2019, as well as celebrating two decades of the Laureus movement which uses the power of sport to overcome violence, discrimination and disadvantage for young people all over the world.
Grant commented, "The Laureus World Sports Awards is the pinnacle of sport, honouring the world's greatest achievers and recognising sport's ability to change lives for the better. As a true sports fan, I'm excited to play my part on Monday evening as the greatest athletes past and present unite in Berlin to celebrate everything we love about sport."
Last Updated Feb 17, 2020, 1:51 PM IST