KL Rahul to best friend Hardik Pandya: 'Dressing room feels empty without you'
In the video posted on the Board of Control for Cricket in India's (BCCI) website, KL Rahul admits that he is missing Hardik Pandya in the dressing room. The Karnataka batsman said the "dressing room feels empty" without Pandya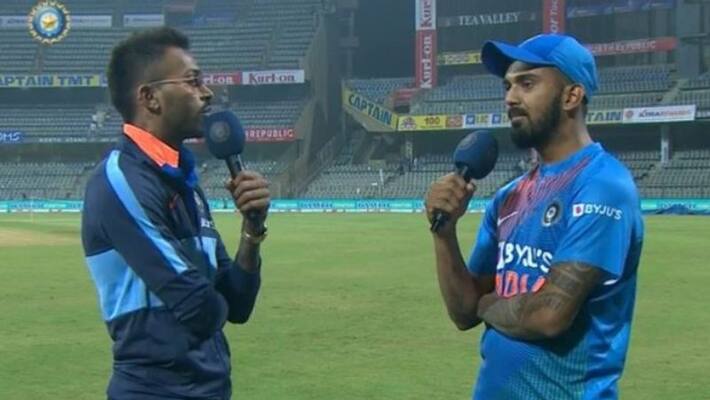 Mumbai: It was a special night at Mumbai's Wankhede Stadium as India flexed their batting muscles to defeat West Indies by 67 runs. Captain Virat Kohli, KL Rahul and Rohit Sharma were the stars with the willow on Wednesday (December 11).
After India had sealed the third T20I and with it the trophy was in the bag with a 2-1 verdict, all-rounder Hardik Pandya, who is out of the team with an injury, interviewed his best buddy Rahul.
Also read: Virat Kohli delivers 'special gift' to Anushka Sharma in 3rd T20I
In the video posted on the Board of Control for Cricket in India's (BCCI) website, Rahul admits that he is missing Pandya in the dressing room. The Karnataka batsman said the "dressing room feels empty" without Pandya.
"We are waiting for you to come back quickly. The dressing room feels empty without you, at least for me. I don't know about the rest of the team," Rahul told Pandya during the interview.
To this, Pandya, with a smile, replied, "I know, they (teammates) felt the same thing. Off camera, they said it. Everyone feels the same. He is not biased."
Rahul, who hit a superb 91 off 56 balls in the third T20I, said, "We miss you. You and Bumrah are so important for this team. Hopefully you guys recover and come back soon.
"I will be back. Keep entertaining us," signed off Pandya.
Pandya was watching the match from the stands. He praised Kohli, Rohit and Rahul and said he "loved" them batting so well.
Both Pandya and Jasprit Bumrah are nursing injuries and are not part of the ODI team too that will face the West Indies in three matches starting in Chennai from Sunday (December 15). 
Pandya had recently undergone a back surgery in London. He regularly provides updates on his progress via social media. Yesterday (December 11), he had shared a video of his training with the caption, "Stronger every day".
Last Updated Dec 12, 2019, 1:57 PM IST