Virat Kohli delivers 'special gift' to wife Anushka Sharma on wedding anniversary
Virat Kohli was at his best, smashing a 29-ball 70 not out while there were similar contributions from openers KL Rahul (91 off 56 balls) and Rohit Sharma (71 off 34). Kohli was in the mood to hit big shots as he smashed seven sixes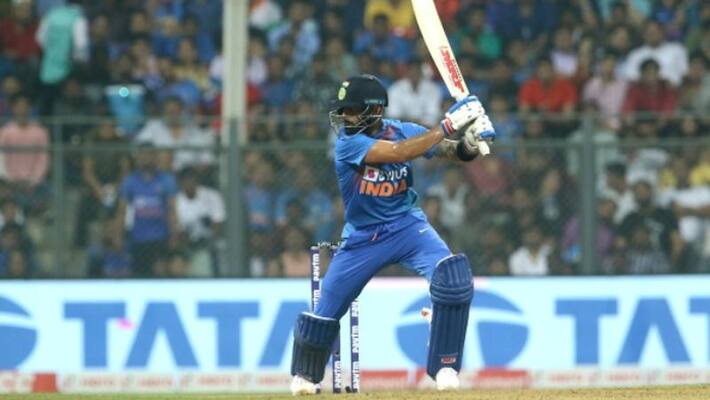 Mumbai: India captain Virat Kohli gave a "special gift" to his actress wife Anushka Sharma after leading the team to a resounding 67-run series victory in the third and final Twenty20 International against the West Indies on Wednesday night (December 11).
After posting a mammoth 240/3 in 20 overs, India restricted the visitors to 173/8 at Mumbai's Wankhede Stadium. With this, the hosts won the three-match series 2-1.
Also read: Mayank Agarwal replaces Shikhar Dhawan
Kohli was at his best, smashing a 29-ball 70 not out while there were similar contributions from openers KL Rahul (91 off 56 balls) and Rohit Sharma (71 off 34). Kohli was in the mood to hit big shots as he smashed seven sixes.
Speaking after the win, Kohli said it was one of his best knocks and said the innings was a "special gift" to Anushka on their second wedding anniversary.
"It was a pretty special innings and also being our second wedding anniversary, it was a special gift. It was a special night and one of the best innings I have played," Kohli said.
The skipper was happy that India could score big after having faltered to do so in the second T20I in Thiruvananthapuram.
"We had spoken a lot (big first innings score). It was about going out on the field and executing. I had the opportunity to do something different, which I don't usually do. I told KL to stay on till the end, and said I'll try and smash a few," said Kohli at the post-match presentation.
"I know that I can contribute in all formats, it's about putting your mind to it. My role becomes crucial, because I have to play two roles. I'm trying to be able to play like this as well," he added.
Kohli praised Rahul and Rohit. "You have to do it out there in the middle to gain confidence from it. I think two guys in the middle with clarity, the way Rahul and Rohit played today, that is key. Batting first (earlier), we've been too tight and hesitant, should we go for it, should we not," he said.
Now, India and West Indies will head into three-match ODI rubber starting from December 15 in Chennai.
Last Updated Dec 12, 2019, 11:13 AM IST