After clinching 5th IPL title, CSK skipper MS Dhoni breaks his silence over playing another season (WATCH)
IPL 2023 Final saw Chennai Super Kings prevailing over Gujarat Titans in Ahmedabad on Sunday, as it conquered its fifth title. Meanwhile, CSK leader MS Dhoni feels he will have to do some hard work for the next nine months to stand a chance to play another season.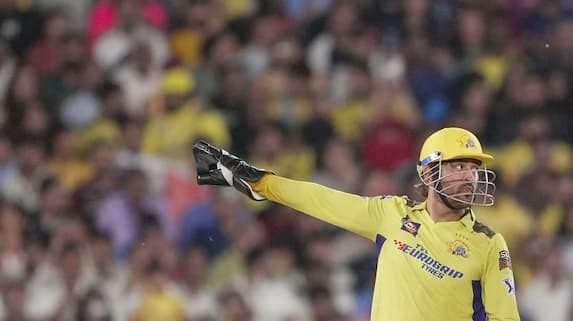 Chennai Super Kings (CSK) triumphant captain Mahendra Singh Dhoni has not yet ruled out playing in the Indian Premier League (IPL) next year but said for that to happen, his body will have to hold up. Under the 41-year-old Dhoni's leadership, CSK won a record-equalling fifth IPL title with a five-wicket victory over defending champion Gujarat Titans (GT) at the iconic Narendra Modi Stadium in Ahmedabad on Monday.
"Circumstantially, this is the best time to announce my retirement. But, the amount of love I have received all over, the easy thing would be to walk away from here, but the harder thing would be to work hard for nine months and try to play another IPL," Dhoni said after the final.
CATCH ALL IPL 2023 UPDATES HERE
Dhoni has been the cynosure of all eyes ever since the IPL began this year, and in a fitting end to the finale, the captain finished with a record-levelling fifth trophy. This IPL, his fans from across the country went to the venues in large numbers to cheer for him, chanting his name wherever CSK played.
"It would be a gift from me, won't be easy on the body. You do get emotional. In the first game at CSK, everyone was chanting my name. My eyes were full of water. I needed to take some time off in the dugout. I realised I must enjoy this. I think they love me for what I am. I don't try to portray something I'm not. Just keep it simple," Dhoni said.
ALSO WATCH: CSK crowned IPL 2023 champion - Can smile for the rest of my life, says Ambati Rayudu
Dhoni spoke about the tie, "Every trophy is special, but what is special about IPL is every crunch game you need to be ready. There were lapses today, the bowling department didn't work, but it was the batting department that took the pressure off them today. I do get frustrated, it is human, but I try to step into their shoes. Every individual deal with pressure differently. Ajinkya [Rahane] and a few others are experienced, so don't worry. If anyone is confused, then could always ask."
GT skipper Hardik Pandya, who considers Dhoni his mentor, said he didn't mind losing to the two-time World Cup-winning India captain. "I think we tick a lot of boxes and we play with our heart. We've always been a team that has stood together, and no one gave up. We win together, and we lose together. Maybe one of those games today. I mean I'm not one of those guys who makes excuses," he said.
ALSO READ: 'One last hurrah' for Dhoni as CSK beats GT in last-ball thriller to clinch 5th IPL title; fans 'whistle podu'
When asked about Dhoni, he said, "I'm very happy for him. Destiny had this written for him. If I had to lose, I don't mind losing to him. Good things happen to good people." B Sai Sudharsan slammed 96 in 47 balls as Gujarat Titans posted 214 for four after being asked to bat first. Set a revised target of 171 in 15 overs after rain interrupted play at the start of the second innings of the final that was pushed to the reserve day owing to heavy downpour, CSK completed the task in the last ball.
Last Updated May 30, 2023, 10:39 AM IST