IPL 2023: 'All up to the franchises' - Rohit Sharma on player workload management (WATCH)
IPL 2023: As the 16th edition of the competition draws near, the player workload management is again in question, given the high-profile ICC World Test Championship 2021-23 Final ahead. However, Rohit Sharma feels it's up to the franchises to manage it.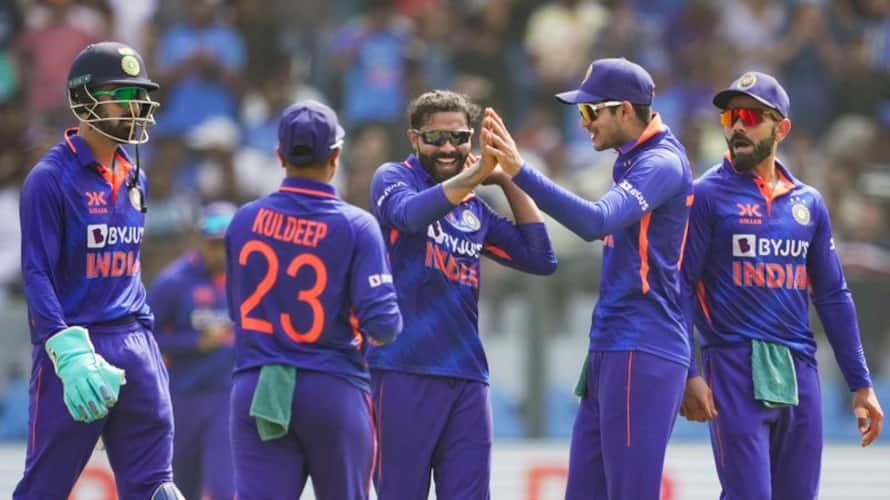 Indian team's growing injury list is "concerning", but captain Rohit Sharma doubts any player will opt out of the Indian Premier League (IPL) games to manage workload when the high-profile Twenty20 (T20) league begins on March 31. From pacer Jasprit Bumrah to middle-order batter Shreyas Iyer, the number of injured national team players is mounting. Rohit said the onus is on the IPL franchise owners and players to manage their workload ahead of the ICC World Cup the country is hosting in October-November.
"It is concerning. We are missing the players who are the playing XI players. They [players] are all adults. So, they have to look after their body, and just if they feel that it's getting a little too much, they can always talk about it and have a break in one or two games. I doubt (if) that will happen but...," Rohit said after India lost the third and final One-Day International (ODI) against Australia by 21 runs on Wednesday to concede the series 1-2.
ALSO WATCH: IND VS AUS 2022-23, 3RD ODI: 'WILL NOT JUDGE BATTERS BASED ON A COUPLE OF POOR SHOTS' - ROHIT SHARMA
Following the IPL, which ends on May 28, the Indian players will get a little over a week to prepare for the 2021-23 ICC World Test Championship (WTC) Final, to be played at The Oval in London from June 7. Rohit said the Indian team management has given "indications" to the IPL franchise owners about the workload management of the players, keeping the 50-over showpiece in mind.
"It's all up to the franchises now. The franchises now own them [the players], so we've given some indications or some borderline thing to the teams. It's up to the franchise and, most importantly, the players. They have to take care of their own body," feels Rohit. While India missed the services of Bumrah for the entire bilateral series against Australia, Iyer's back injury resurfaced during the fourth and final Test in Ahmedabad, and he missed the subsequent three ODIs.
ALSO READ: IND vs AUS 2022-23, 4th ODI: 'Need to understand where we need to improve' - Rohit after series loss
"Everyone is trying their best to get everyone on the park. We've been focusing a lot on the management of the players, which is why we have to rest certain players at a certain point in time. From our side, we can handle them. But I am not a specialist to tell you why recurring injuries happen. Our medical team is looking into this and ensuring we attend the World Cup. We've got our best 15 players ready," Rohit framed.
Iyer first felt discomfort in his lower back last December and then missed the ODI series against New Zealand at home and the opening Test against Australia. Iyer, who captains former two-time IPL champion Kolkata Knight Riders (KKR), is likely to miss some games of the IPL due to the recurring injury.
ALSO READ: IND VS AUS 2022-23, 4TH ODI - ZAMPA'S 4-FOR HANDS INDIA MAIDEN HOME SERIES LOSS IN 4 YEARS; FANS UPSET
"Injuries are bound to happen when you play so much cricket. So, not looking too much into it, what's available to you, what's in your hand, you can control that, and we are just trying to control all of that. Players are frustrated as well. They want to play. They don't want to miss out. So, it's a little sad, but at the end of the day, you cannot do too much," Rohit articulated.
Rohit said the medical team is doing everything possible to ensure the players' well-being. "I can see, and I can vouch for it, that the people working behind the scenes are working hard with all these players, and freakish injury can happen at any time like Shreyas was the best example," he affirmed.
ALSO WATCH: 'THALAIVA VIRAT' - KOHLI DANCES TO 'LUNGI DANCE' DURING CHENNAI ODI VS AUSTRALIA
"He [Iyer] was sitting the whole day, and he just went to take a knock, and the injury happened to him. And there's nothing you can do about it. We can only remember managing players and giving them enough breaks. And, I think, from our side, we're doing that," concluded Rohit.
(With inputs from PTI)
Last Updated Mar 23, 2023, 12:02 PM IST