IPL 2020: CSK's Suresh Raina, Matthew Hayden share their favourite IPL moments (Video)
Chennai Super Kings (CSK) Matthew Hayden and Suresh Raina have picked their favourite IPL moments. Watch them relive the best moments
Bengaluru: Fans and players are still waiting to hear from the BCCI about this year's Indian Premier League (IPL) as India continues to be under a lockdown due to the novel coronavirus (COVID-19) pandemic. In these difficult times, Chennai Super Kings (CSK) players are enthralling their fans with their favourite IPL moments.
Former Australian opener Matthew Hayden took to his Twitter account on Monday (April 13) to speak about his favourite IPL moments with CSK. He recalled a match where captain MS Dhoni (29-ball 54) and Suresh Raina (46 off 27) took them into the IPL final after helping the team defeat Kings XI Punjab. This happened in Dharamsala on April 18, 2010.
Also read: List of cricketers who have donated to PM CARES Fund
Hayden, who played for CSK, then nominated Raina to speak about his favouirte IPL moment. The left-handed Indian posted a picture of a Mongoose bat signed and gifted to him by Hayden. Raina then nominated Faf du Plessis.
Also read: Shane Watson on CSK, Dhoni, Fleming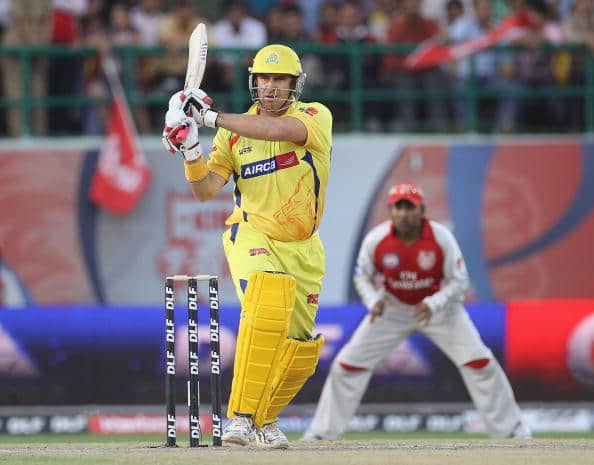 Hayden, along with a video, wrote, "The @IPL has been a huge part of all our lives. Wanted to share my favourite #MyIPLmoment to fill the gap before live action starts again. I would like to nominate @ImRaina  to share his favourite IPL moment. Bless you all @ChennaiIPL @mipaltan (sic)."
Raina said on Twitter with his own video, "Beautiful memories of #Yellove & @IPL brother @HaydosTweets. One of my favourite innings with you is CSKvsDD from 2010, where I got your autographed bat which is a very precious part of my collection till date. Here I pass it on to @faf1307 to share his favourite moments of #IPL (sic)."
With the picture of Mongoose bat, Raina wrote, "Golden memories of @IPL with my brother @HaydosTweets. Thanks for this precious bat, it will always top my collection. @ChennaiIPL (sic)."
IPL 2020 has been deferred till April 15. The 13th edition of the IPL was to start on March 29. In last year's final, CSK lost to Mumbai Indians (MI) by one run.
Last Updated Apr 13, 2020, 1:52 PM IST