IND vs SL 2022-23, 3rd T20I: 'Passion for this game kept me driving' - Suryakumar Yadav
IND vs SL 2022-23: Suryakumar Yadav displayed his offensive side again during the final Rajkot T20I against Sri Lanka on Saturday, slamming his third T20I ton. Meanwhile, he has credited his passion for the game that has kept him driving.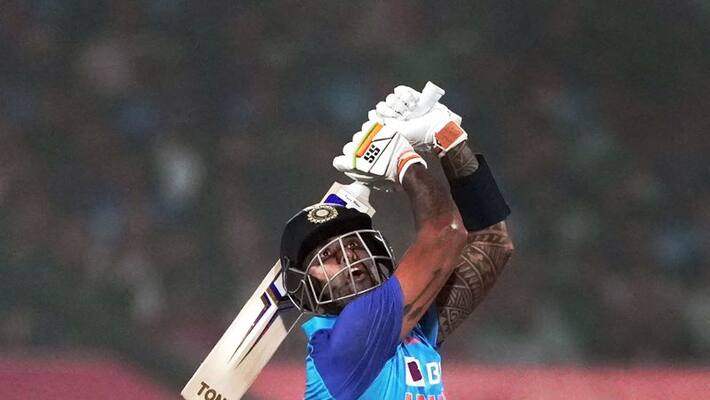 Suryakumar Yadav was well past 30 when he made his India debut. Still, the swashbuckling batter says his belated selection had only strengthened his resolve and made him even hungrier to succeed in the top flight. Surya produced yet another incredible knock in the shortest format -- a 51-ball 112 not out -- as India outplayed Sri Lanka by 91 runs in the third Twenty20 International (T20I) to secure a memorable 2-1 series win at the Saurashtra Cricket Association (SCA) Stadium in Rajkot on Saturday.
"It does make me even hungrier now. The amount of domestic cricket I have played, I have always enjoyed playing that for my state side Mumbai, and I always try to put up a show. Enjoyed batting even there as well. Yes, it was a little challenging in the last few years, but I kept telling myself, this is why you play this game. Enjoy it. The passion for this game kept me driving, so I just kept going," Surya told India head coach Rahul Dravid when asked if the long wait has taught him to value his success a lot more.
ALSO WATCH: IND vs SL 2022-23, 3rd T20I: 'My life becomes very easy when experienced players are there' - Hardik Pandya
BCCI.TV organised the interaction between the two. "It is lovely to have someone here with me who, as a young kid growing up, did not watch me bat. And, I hope you didn't, I am sure you didn't," Dravid started the chat on a lighter note, to which Surya replied, "No, I did watch [you bat]."
Surya's batting is a stark contrast to how Dravid played his cricket, and the former India captain only alluded to that. Dravid then asked if he could pick one or two knocks that he feels are his best. "It is difficult for me to pick any one innings... I enjoyed batting in all the difficult situations where I went into bat. I just wanted myself, whatever I did in the last year. I have been doing the same thing again," SKY framed.
ALSO READ: IND VS SL 2022-23: 'IMPORTANT TO PUT PRESSURE ON YOURSELF' - SURYAKUMAR YADAV POST HIS 3RD T20I TON
"As I said, I try to enjoy and express myself as much as possible. In those difficult situations, teams try to pull the game off. I try to take the game on. I'm happy if it works well for the team and me," phrased Surya. The middle-order batter's century was his third in the format in just seven months, making him the first player to score three T20I hundreds when not opening the batting.
So, how many shots from his bat are pre-determined? "In this format, you have to be a little pre-determined, and at the same time, you have to have another stroke if the bowler is a step ahead of you during that time. But, yes, I try to play to the field what fielders are in, what bowler can bowl at that time, and it works out," SKY explained.
ALSO READ: IND VS SL 2022-23, 3RD T20I: 'SURYAKUMAR YADAV IS JUST TELLING US THAT BATTING IS SO EASY' - HARDIK PANDYA
"If I am meeting the ball well, I try and set the field for myself whenever any left-arm spinner, leg-spinner or fast bowler is bowling and just try and time the ball as much as possible," presented Suryakumar. He also credited his family for his immense success in recent times, and Dravid, who was in charge when the batter was finding his feet at India A level for years, lauded the role played by his folks.
"The role of the family has been most important in my cricketing journey till now. When I started playing cricket, they were the ones who helped me out of the box. Because my dad is an engineer, there is no history of sports in my family. I had to be a little different for him to see a spark in me and push me," Surya recalled.
ALSO READ: IND vs SL 2022-23, 3rd T20I - Ton-up Suryakumar Yadav fires India to series-clinching win against Sri Lanka
"They have sacrificed a lot, and obviously, my wife. After we married, she's been pushing me hard regarding nutrition and staying fit. We have been talking about cricket a lot when I go back home, and we discuss how we can do better and be one step ahead at this level, and we enjoy doing that," attested SKY. Dravid concluded the interaction by saying, "Long it may continue."
(With inputs from PTI)
Last Updated Jan 8, 2023, 3:41 PM IST