India vs Australia: PM Modi to Dhoni - personalities likely to attend WC final; closing ceremony details here
Team India will clash against Australia in the ODI World Cup 2023 final at Ahmedabad's Narendra Modi Stadium on November 19, featuring a star-studded audience, musical performances by Dua Lipa and others in dazzling closing ceremony.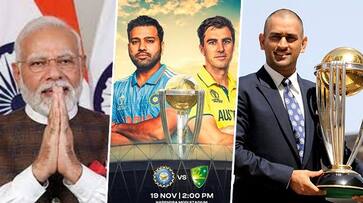 Rohit Sharma, leading Team India, is set to face the mighty Australia at the Narendra Modi Stadium in Ahmedabad on Sunday, November 19, for the coveted Cricket World Cup 2023 title. The high-stakes clash, anticipated as one of the grandest sporting events, is expected to host various VVIPs, with Prime Minister Narendra Modi and other dignitaries likely to attend. Australian Prime Minister Anthony Albanese has also been invited, potentially adding to the prestigious guest list.
The World Cup finals may witness the presence of two iconic World Cup winning Indian captains, Kapil Dev and MS Dhoni, while cricket legends like Sachin Tendulkar, Virender Sehwag, and Yuvraj Singh are expected at the Narendra Modi Stadium. Current players like Hardik Pandya and Yuzvendra Chahal are also likely to attend to grand finale.
Also read: ODI World Cup 2023: Mitchell Starc anticipates a thrilling showdown in finals against India
Similar to the excitement generated during the India vs Pakistan match last month, the final promises to be a captivating spectacle for the audience. Singers Dua Lipa and Aditya Gadhavi of Khalasi fame are set to perform their popular hits in a glittering closing ceremony, and music composer Pritam Chakraborty will entertain the crowd with Bollywood chartbusters.
Dua Lipa, an artist with English and Albanian heritage, is celebrated for her mezzo-soprano vocal range and disco-influenced sound, garnering extensive acclaim from critics and the media. Her illustrious career is adorned with accolades, including six Brit Awards, three Grammy Awards, and two Guinness World Records.
The Indian Air Force's Suryakiran Aerobatic team will contribute to the spectacle by showcasing their aerial skills, lighting up the Ahmedabad skies for a once-in-a-lifetime experience for the audience.
Beyond political figures and cricketing legends, the stands are expected to be graced by notable personalities from the entertainment industry, including Amitabh Bachchan, Rajinikanth, Kamal Haasan, Mohanlal, Venkatesh, Nagarjuna, and Ram Charan, all showing support for the Men in Blue.
The match will also draw attention from the BCCI (Board of Control for Cricket in India) and ICC (International Cricket Council) officials, making it a comprehensive gathering of cricket enthusiasts. Pakistan Cricket Management Committee chairman Zaka Ashraf and chief operating officer Salman Nasser are also likely to be in attendance for the India vs Australia final showdown. Additionally, family members and friends of Indian cricketers will be present to witness this monumental clash.
Having maintained an undefeated record in their ODI World Cup 2023 campaign, the Rohit Sharma-led Team India is poised for the title, aiming for nothing less than the coveted 'World Champions' status.
Also read: From sidelines to stardom: How Mohammed Shami took the mantle of India's bowling hero in ODI World Cup 2023
Last Updated Nov 17, 2023, 1:02 PM IST